A combination of aspiration and desperation is fuelling migration in India
Feb 07, 2017 08:43 PM IST
Taking cognisance of this increasing mobility, the State should consider making social and political rights of citizens portable
The latest Economic Survey (ES) points to a dramatic spike in internal migration with Delhi and the NCR being the top destinations.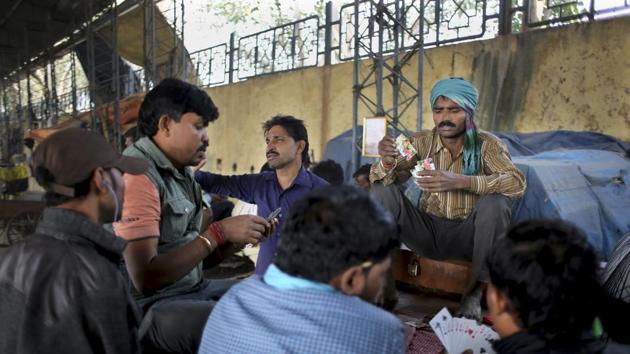 Between 2011 and 2016, close to nine million migrated between states annually, up from about 3.3 million suggested by successive censuses, says the survey.
Among the states that send the highest number of migrants to these places, Uttar Pradesh and Bihar top the list. They are followed by Madhya Pradesh, Punjab, Rajasthan, Uttarakhand, Jammu and Kashmir and West Bengal.
In an interview to HT, Indrajit Roy, Principal Investigator of University of Oxford's study Lives on the Move, talks about what triggers such high migration and why it is now absolutely critical to make social and political rights of citizens portable.
KD: India is on the move. Is it a good or bad thing?
IR: Well, the short answer is that 'it depends'. What does it depend on? The circumstances and the nature of migration. Migration in general is to be welcomed and there are indications that migration in India helps people to exit from hierarchical social relationships. However, much of the migration in India, especially related to work and employment, is circular — which means people don't find enough social and economic opportunities outside of their home localities and must fall back on these for sustenance. You have in India a perverse sort of mobility, an 'immobile mobility': Individuals are mobile but their households remain immobile.
Migration is good because it might improve people's economic condition. More importantly, migration and mobility enables people to escape local oppression and lead dignified lives, further their social networks, learn new skills and disseminate social and political ideas. This is the reason that statesmen such as BR Ambedkar argued that Indians should be more mobile than he found them to be. Mobility, if motivated by a desire to exit caste hierarchies and to aspire to better lives, can be emancipatory.
It is often said that migration will disrupt the village way of life, thus destroying a civilisation. These fears are ahistorical. India's so-called 'village way of life' was a product of colonial rule that encouraged the country's 'peasantisation'. Disrupting this 'way of life' only disrupts a colonial creation, not Indian civilisation.
Concerns about mobility are also motivated by a desire to keep 'people in their place'. Look at the way migrant workers are treated in Delhi and Mumbai: They are almost considered to be 'not human'. Bal Thackeray once said one Bihari brought with him a 100 headaches. I believe caste hierarchies inform elite suspicion of mobility and migration, especially by Dalitbahujans, in a major way. Anti-caste struggles over the last two centuries have weakened the caste hierarchy considerably. Migration is one of the ways of diminishing the hold of caste on people's lives further.
However, if mobility is forced due to economic distress, civil unrest and political persecution, it signals a problem. One is not here talking only of physical coercion, but also extreme conditions of destitution and exclusion. In such circumstances, mobility is far from the panacea and might even exacerbate existing social and economic hierarchies.
In India, fragmented landholdings in the countryside make it imperative for people to combine agricultural work with work outside of that sector, the 2011 census reported an absolute decline in the number of cultivators across India. This might have been good news, except that the number of agricultural labourers increased during precisely this period .
Read: How many farmers does India really have?
Informal employment remains in the region of a whopping 92% .
To make matters worse, inequality is at an all-time high and we have a long way to go before the per capita incomes of the States even begin to converge, as the Economic Survey itself notes in the report (Chapter 10).
This combination of aspiration and desperation results in internal migration in India, at least for employment at the poorer end of the spectrum, being 'circular': one estimated - reported in the Economic Survey (page 267) suggests there are 100 million circular labour migrants in India.
This means 100 million people traverse the length and breadth of India, seeking dignified lives and livelihoods, working for a few months at different locations throughout the year, and then returning because of limited opportunities.
Throughout this time, their families remain home - circular labour migration is a mostly male thing. Although economic remittances do contribute to migrant households being less dependent on local elites, the fact remains that at the end of the day, migrant workers and their families remain rooted to their villages.
During their iterations, migrant workers have no access to their social entitlements or their political rights.
Thus, India today is witness to both impulses. On the one hand, people seek to exit oppressive social hierarchies and lead dignified lives as equals. On the other hand, poverty and inequality continue to blight the lives of an overwhelming majority. People trying their best to lead dignified lives and exit social hierarchies. But there are simply not enough opportunities for them - either in their 'source locations' or their 'destinations'.
KD: Your ongoing research in migration is based in Bihar. What's triggering migration from that state?
IR: Our research shows that the quest for dignified livelihoods is an important motivating factor for people leaving Bihar. I want to insist on 'dignified livelihoods': there is employment available locally, but many labourers, the majority of whom are Dalitbahujans, will refuse to work for farmers or landlords who practice caste discrimination.
Our research assistants tell us of labourers who, during the 1970s and 1980s, fought with local employers because they were not being paid on time or because they faced caste discrimination. Refusing to tolerate continued oppression, they left for dignified work as far as Punjab when agricultural opportunities were available. But more than incomes, people justified their going to Punjab on the grounds that they were treated with respect and dignity there: "Sardarji sits on the same cot as us" or "We are offered food in the same utensils that everyone else eats in".
Remember this was the time the Bihar socialists had been really campaigning along themes of izzat and samman. Under Lalu Yadav's regime, migrant workers felt confident that local landlords (the dabang people) would not harm their families.
Over the last few years, Punjab's popularity has declined and people look to Delhi and the southern States for work. A recent survey we did in 10 districts of Bihar reveals that while 40% of all migrant workers flock to Delhi for work, as many as 22% seek work in the southern States. Clearly, economic opportunity is important - but not the only thing they are looking for- for example, there was not a great deal of enthusiasm regarding Gujarat and Mumbai, the hubs of economic growth although - yes - Delhi is deemed as welcoming.
KD: What kinds of policies are required to ensure a better life for migrants?
IR: Social and political rights in India are based on the assumption that people are sedentary. Under the public distribution system (PDS), people's ration cards are invalid in their destinations of work. These migrants depend either on their employer or labour contractor for food provisions or purchase food in the open market.
This significantly increases their cost of living and reduces the additional earnings they might hope to remit to their families. The only social support their families possess is the compensation offered by the state in case of death at work. Because migrant workers are mostly in informal employment and dotted across several sectors and industries, they have little organised space to voice their grievances or articulate complaints.
Migrants' voting rights are also restricted to their villages – what the census calls their 'usual place of residence' (UPR) – despite the fact that they give the best part of their working lives to the city. On the one hand, this reduces their 'value' to the destination locality's politicians, who do not need their votes to win elections.
And on the other, it sees them excluded from the electoral process when they are unable to go back to their homes during election time to cast their votes. A study conducted by the NGO Ajivika and their partners revealed that over 60% of itinerant migrants were unable to cast their votes in at least one election for the simple reason that they were away from home.
Taking cognisance of this mobility, the state should consider making social and political rights portable. People should be allowed to access their social entitlements - the PDS grain, etc - from anywhere in the country. This government loves digital technologies and should use such technologies to serve the circular labour migrants who build India.
Moreover, NRIs are being the given the right to vote, irrespective of where they live. Surely, the Indians who labour to construct, manufacture and service India deserve that right no matter where they live.