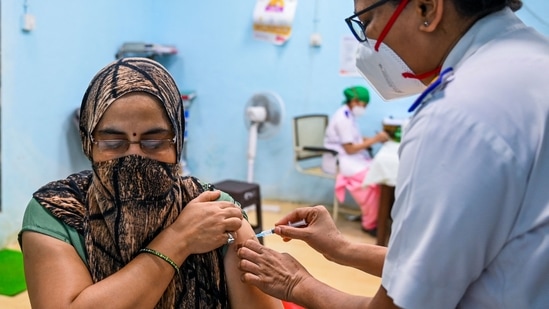 Govt reconstitutes 6 empowered groups into 10 to tackle Covid-19 crisis; forms panel for vaccination, oxygen
NITI Aayog will be leading 3 of the empowered groups. ICMR will lead 1 of the groups and the rest of the six empowered groups will be led by Union secretaries.
Reported by Neeraj Chauhan | Written by Shankhyaneel Sarkar
, Hindustan Times, New Delhi
PUBLISHED ON MAY 29, 2021 08:01 PM IST
The Centre has reconstituted 6 empowered groups into 10 on Saturday to tackle the current coronavirus disease (Covid-19) situation in the country. The Centre has also formed a panel for vaccination and to monitor medical oxygen requirements.
Niti Aayog (health) member Dr VK Paul will lead the panel on vaccination which has 10 other members who will oversee procurement, manufacturing, logistics, daily supply and utilisation and will also oversee amount of vaccine wastage.
Giridhar Aramane, Union secretary, ministry of road transport and highways has been appointed convener of the empowered group to see the nation's requirements related to medical oxygen. He along with 11 others will oversee production, import, logisitics, matters related to equipment meant for transporting oxygen, PSA plants and conversion of industrial oxygen to medical oxygen.
"The situation has been reviewed and a need have been felt to reconstitute the six Empowered Groups into ten Groups in order to cater the current need of Covid-19 management. Now, the undersigned in his capacity as Chairperson, National Executive Committee (NEC), in exercise of the powers conferred under section 10(2)(h) and (i) of the Disaster Management Act, 2005, hereby reconstitute these Empowered Groups as per Appendix, with the same terms and condition as have been mentioned in the Order of even number dated March 29, 2020," the order said.
The reconstituted empowered groups with their conveners are as follows -
Emergency Management Plan and Strategy - Dr VK Paul, Niti Aayog (health) member
Emergency Response Capabilities - Rajesh Bhushan, Union health secretary
Augmenting Human Resources and Capacity Building - Apurva Chandra, Union labour secretary
Medical Oxygen - Giridhar Aramane, Union secretary, ministry of road transport and highways
Vaccination - Dr VK Paul, Niti Aayog (health) member
Testing - Dr Balaram Bhargava, ICMR DG
Partnerships with NGOs, private sector and international oganisations - Amitabh Kant, CEO, Niti Aayog
Information, Communication and Public Engagement - Union information and broadcast secretary Amit Khare
Economic and welfare measures - Ajay Seth, secretary, department of economic affairs
Pandemic response and coordination - Ajay Kumar Bhalla, Union home secretary
Close