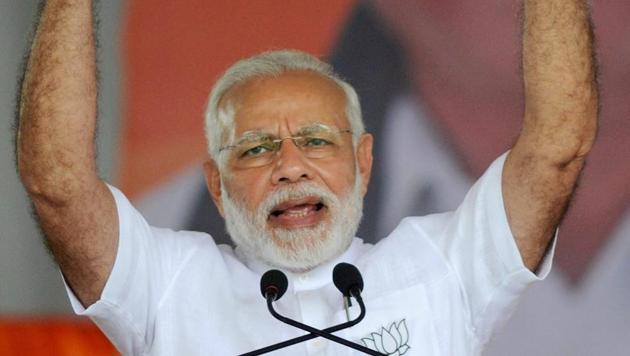 Grand welcome awaits PM Modi in Nepal
PM Modi is travelling to Nepal a month after the India visit of his counterpart KP Oli.
Hindustan Times, Kathmandu | By Anil Giri
UPDATED ON MAY 06, 2018 09:04 PM IST
Nepal is gearing up for a grand welcome to Prime Minister Narendra Modi during his state visit beginning on May 11.
Modi is travelling to Nepal a month after the India visit of his counterpart KP Oli. The trip also takes place weeks after his informal summit with Chinese President Xi Jinping and as China is proposing trilateral cooperation and building of an economic corridor from China to India via Nepal.
This is the prime minister's third visit to Nepal since assuming office.
Modi will land in Janapkpur, located in Province 2 which is dominated by the Madhesi population, from Patna on May 11 where Oli will welcome him at the famous Ram- Janaki Temple. They will inaugurate the inclusion of Janakpur as part of Ramayana Circuit initiated by government of India. On behalf of the people of Janakpur, Modi will be felicitated at a civic reception which is likely to be attended by more than 100,000 people.
The provincial government has announced a public holiday on that day. Provincial chief minister Lal Babu Raut said it is a matter of pride for them to welcome Modi in Janakpur.
The mayor of Janakpur will hand over the key of the city to Modi, a symbolical gesture to state that he is always welcome there.
Modi will go from Janakpur to Kathmandu where he will hold delegation level talks with Prime Minister Oli and call on the president and vice president of Nepal.
He will meet leaders from various political parties and lay the foundation of Arun III hydroelectricity project, being built with funding from India, through video conferencing. The 900MW project is expected to be completed in five years with assistance worth $1.5 billion from India.
On May 12, Modi will visit Muktinath temple, a famous pilgrimage destination for Hindus from India, and offer special poojas. He will also announce a "surprise gift" for the development and reconstruction of the temple, which is located at a high altitude.
On the same day, Kathmandu metropolitan city will offer a civic reception to Modi and its mayor will also give the key of the city to him.
Nepal has deployed some 11,000 security personnel for the visit, and closed down the world-famous Annapurna Trekking Route for three days. The closure is in view of Modi's visit to Mustang, where the Muktinath temple is located.
News of Modi's visit has generated debates in media and online. Some critics are holding Modi responsible for a six-month blockade of the Nepal-India border after New Delhi expressed displeasure over Nepal's new constitution.
Close