Hardik, Alpesh, Jignesh to address farmers in MP's Bundelkhand
The rally is on the home turf of BJP heavyweight and rural development minister Gopal Bhargava.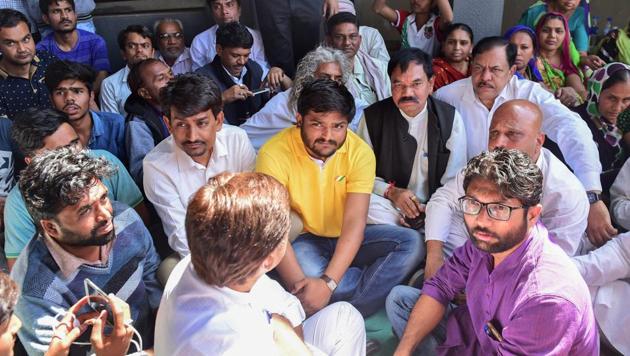 Updated on Apr 07, 2018 09:36 PM IST
Hindustan Times, Sagar/Bhopal | By Anupam Pateriya
Hardik Patel, Alpesh Thakor and Jignesh Mevani, a young troika of Gujarat leaders who mounted a challenge for the Bharatiya Janata Party (BJP) in the December 2017 state polls, will showcase their joint might in Madhya Pradesh on Sunday.
All three will address farmers in Bundelkhand region's Sagar city at a public rally. The rally organisers are playing down talk of the event's political nature, but independent observers say it is evident.
"The word on the ground is this rally is an effort to consolidate Other Backward Class (OBC), Scheduled Caste (SC) and farmer vote base in the region ahead of the assembly polls later this year," said Sudesh Tiwari, a veteran journalist who covers Bundelkhand politics.
The rally, organised by Pichda Varg Sanyukt Morcha and local farmer organisations, at Garhakota town has 21 farmer issues as its agenda.
OBCs, SCs and farmers are a substantial part of populace in drought-hit Bundelkhand. At present, of the 26 assembly seats in Bundelkhand region (except Datia district), 21 are with the ruling BJP and five with the Congress. The OBC and SC communities in Bundelkhand are divided along caste lines and the rally has triggered talk that it is an effort to unite them ahead of the polls.
The rally is on the home turf of BJP heavyweight and rural development minister Gopal Bhargava, who has won the Rehli assembly seat in the region seven successive times. He has no confusion about the rally's objective.
"This function is being organised to divide voters on community lines and disturb the harmony here. The Congress and a person from the BJP are behind the event. I have never played caste politics here but such an event will encourage it and that will not be good," said Bhargava.
Mahendra Patel, a retired deputy collector and local convener of the event, said it was a non-political rally. "We are raising farmer issues because they have been suffering in Bundelkhand for years," he said. "We are expecting a gathering of more than one lakh farmers. Also, the OBC community is spread throughout Bundelkhand, but they don't have a proper representation or voice. This event will also help their cause."
Sandeep Sablok, a Congress leader of Bundelkhand, said his party had nothing to do with the event at Garhakota. "The Congress has always supported oppressed people and it will continue to support their struggle," he added.
Sagar collector AK Singh said arrangements had been made for peaceful conduct of the event. "The event's organisers, police and administration have met and specific instructions have been given. We will keep eye on the event to ensure law and order is not disturbed."
Close Story