Latest from jignesh mevani
The 42-year-old Dalit leader Jigneshkumar Natvarlal Mevani has defeated Congress turncoat and Bharatiya Janata Party candidate Manibhai Vaghela by a margin of 4,928 votes.

Updated on Dec 08, 2022 06:33 PM IST
Among those who were convicted for taking out the rally (with necessary permission) from Mehsana to Banaskantha in July 2017 to mark one year of the Una Dalit flogging incident included Subhodh Parmar and Reshma Patel.

Updated on May 05, 2022 03:19 PM IST
Reported by Maulik Pathak | Written by Sohini Goswami
, New Delhi
Mevani arrived in Gujarat's Ahmedabad Tuesday evening to a resounding welcome from his supporters.


Updated on May 04, 2022 01:49 PM IST
Written by Manjiri Sachin Chitre | Edited by Chandrashekar Srinivasan
Jignesh Mevani was arrested on April 20 and then on April 25 over two cases filed in Assam.


Published on May 02, 2022 12:35 PM IST
The Independent MLA from Vadgam, who offered support to Congress last year, was arrested on April 21 for alleged offensive tweets against Prime Minister Narendra Modi by police from Kokrajhar and brought to Assam.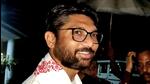 Updated on Apr 30, 2022 08:30 PM IST