'Deity orders' closure of joints, guest houses at Malana village famous for hash
Jul 11, 2017 09:06 AM IST
Malana is famous world over for its premium hashish. Villagers have their own parliament and are said to be descendents of soldiers of Greek emperor Alexander's army.
Malana village in Himachal Pradesh, famous for its premium quality hashish, has just become off limits for tourists after its presiding deity Jamlu 'ordered' the closure of all guest houses and restaurants 'to protect' local culture and traditions.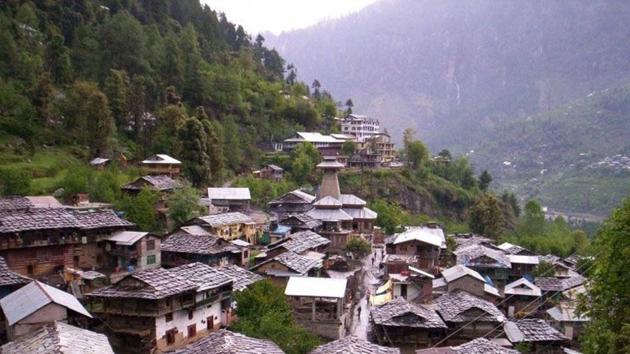 The deity's diktat came on the heels of a meeting of the village's own 'parliament' which concluded that outsiders thronging their village were a threat to their culture. The 'parliament' comprises an upper house called Jayeshthang and a lower house called Kanishthang. Villagers invoked Jamlu after the 'parliament' met.
Villagers in Malana invoke Jamlu through a chosen medium – in this case an oracle, who then conveys to them what the deity 'said.' Devotes believe Jamlu responds to all kinds of queries.
"The deity did not want any of the villagers to rent out their property for running guest houses and restaurants. He has forbidden everyone from doing this, and those violating his orders will have to bear the brunt of his curse," Malana panchayat pradhan Bhagi Ram told HT on the phone.
Corroborating the development, district tourism officer in Kullu, Rajnish Gautam, said, "I learnt that the deity has forbidden the villagers from running guest houses." The restaurants and guest houses have to be registered with state government's tourism department's office in Kullu.
There are nearly a dozen guest houses in the village with a population of 4700.
Inhabitants of Malana known as the Malanis have a distinctive dialect called Kanashi, which is different from the others spoken in the Kullu region. Malana is an isolated village in the Parvati Valley and its reclusive inhabitants are said to be descendants of soldiers of Alexander's army.
A few months back, the village had banned photography because villagers felt that visitors clicking pictures were portraying Malana as a hub of narco-tourism.
"It's unfortunate that cannabis trade has defamed our village. People of this village have their own culture and beliefs," said Mahila Mandal pradhan Ram Kali, adding that they have been struggling to shed this cannabis tag.
Vivek Mohan, winner of a national award for his critically acclaimed documentary on Malana, said, "Malana managed to preserve its culture due to two factors: devotion to Devta Jamlu and its geographical isolation. Now both are getting diluted due to the Malana hydro project and mobile telephony. Their devotion to the devta is keeping them together, but how long will it be before it becomes a cosmetic ritual."
Traditionally, inhabitants of this land-locked village used to make baskets, ropes and slippers from hemp. But in the late 1980s, the visiting foreigners taught the villagers to extract the intoxicating resin from cannabis.
Though successive governments have tried to wean the villagers away from narcotic trade, there is no other cash crop to rival cannabis in Malana. The maize and potatoes grown by the villagers do not fetch handsome returns.