Holding HPU degrees, Afghan students keen on rebuilding war-ravaged country
Students draw inspiration from former Afghanistan President Hamid Karzai who studied here from 1979 to 1983.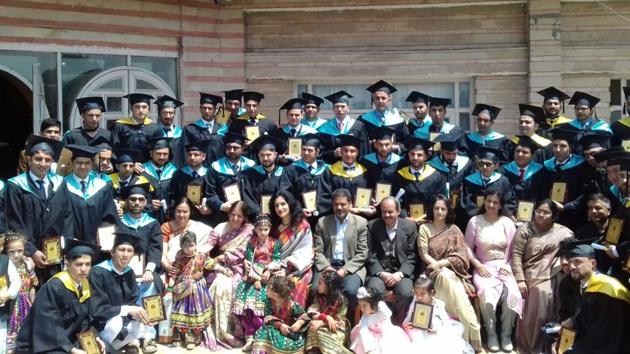 Updated on May 09, 2018 11:57 AM IST
At a time when youth in Afghanistan is fleeing the war-ravaged nation in search of better jobs and education prospects, a group of Afghan students studying in Himachal Pradesh University (HPU) are keen to go back home and contribute their efforts towards rebuilding their country.
Students draw inspiration from former Afghanistan President Hamid Karzai, who studied at HPU from 1979 to 1983. Karzai came to India as a student when he was 18. He graduated from Sanatan Dharma Bhargva College and completed his Masters in Political Science from HPU in 1983. In the early eighties, Karzai was adviser to leader of the National Salvation Front of Afghanistan, ANLF. HPU later conferred on him an honorary Doctor of Literature degree to honour his invaluable services to the cause of international peace and harmony.
Over two dozen Afghan students in Himachal Pradesh University passed their last semesters, of whom 13 completed their MBA.
These students believe educating the youth can prevent them from joining terrorist outfits back hom. Majority students studying in HPU have opted for business studies under various scholarship programs.
"These students will become ambassadors of education when they go back home," Neelima Kanwar, head of international studies at HPU, said. "They will help in building their nation," she added.
About 50 international students passed out from Himachal Pradesh University recently. While 26 are from Afghanistan, other international students are from Uganda, Nigeria and Nepal.
Generally, foreign students opt for streams such as business administration, law and computer application. There are foreign students who recently graduated in the history political science and public administration.
Afghan students have who passed out from University have already srated taking up jobs in their country.
"Initially, I found it tough to acclimatize to the surroundings here but later I adjusted myself . I am happy to be in the company of local students. Shimla's environment, too, is good for studies," said Mohmmad Quais Rezvani, who will serve in Afghanistan's defence ministry when he goes back home.
"I am very proud of my MBA degree. Also, having lived in Shimla, I have realised the importance of peace and harmony. Education can help keep the youth away from joining terrorist outfits," Rezvani said.
Another student, Javed Bahonar, who has completed his bachelor's in computer applications, said that during his university days he attended many workshops and awareness campaigns in Shimla.
"When I go back, I will organise awareness campaigns to tell people about the importance of education," Bahonar said.
Close Story