SC rules on right to privacy: What next on beef law, LGBT rights, data security
Aug 24, 2017 05:50 PM IST
In a landmark verdict, the Supreme Court on Thursday ruled individual privacy is a guaranteed fundamental right.
The Supreme Court ruled on Thursday Indians have a constitutional right to privacy, a verdict that could have wide-reaching implications on broader civil rights issues, including homosexuality and prohibition.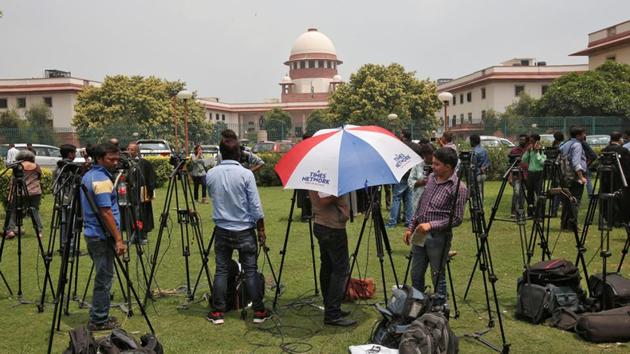 Laws on beef possession in many states could also come up for review.
Stay tuned with breaking news on HT Channel on Facebook.
Join Now
Experts have said the 'right to privacy' case would be a test of our democracy, with the possibility of citizens challenging laws based of individual rights.
Privacy is not explicitly mentioned in the Constitution, and the government has argued that people cannot expect an absolute right to privacy.
Here are a few issues that may feel the ripples of the Supreme Court's verdict declaring right to privacy a fundamental rights:
Section 377
Activists have argued that Section 377, which criminalises homosexuality, violates the Indian citizens' fundamental rights to equality and to life with dignity and privacy.
On Thursday, Chief Justice JS Khehar said privacy was "protected as an intrinsic part of Article 21 that protects life and liberty".
In its judgment, the SC said: "It is an individual's choice as to who enters his house, how he lives and in what relationship. The privacy of the home must protect the family, marriage, procreation and sexual orientation which are all important aspects of dignity."
"Ones sexual orientation is undoubtedly an attribute of privacy," it said.
Beef laws – unlimited right to search, seizure will be vulnerable
In 2015, the Bombay high court said the state shall not intrude on the privacy of citizens to find out if they are in possession of beef or any other form of meat.
The Maharashtra government later said the high court "while coming to the finding that right to privacy forms part of the fundamental right to personal liberty guaranteed under Article 21 of the Constitution, ought to have appreciated that right to privacy has not yet been designated as a fundamental right".
The Supreme Court on Thursday deemed right to privacy as a fundamental right.
The court also said: "...as new cases brought new issues and problems before the Court, the content of the right to privacy has found elaboration in these diverse contexts. These would include... food preferences and animal slaughter."
"I do not think that anybody would like to be told by the State as to what they should eat or how they should dress or whom they should be associated with either in their personal, social or political life," Justice J Chelameswar noted.
Is 'right to be forgotten' on the cards?
In 2014, the Court of Justice of the European Union (ECJ) said people could ask search engines such as Google to remove certain information from web results appearing under their names. This was dubbed the "right to be forgotten".
According to Google's transparency report, it has since received over 720,000 removal requests and accepted about 43% of them.
Europe is known to have some of the most progressive laws on privacy, and the SC's verdict terming privacy as a fundamental right in India could trigger a debate on the need for "right to be forgotten" in the country.
Here is what the Supreme Court said on a few other issues:
Abortion
"A woman's freedom of choice whether to bear a child or abort her pregnancy are areas which fall in the realm of privacy. "
Euthanasia
"Concerns of privacy arise when the State seeks to intrude into the body of SUBJECTS.57 Corporeal punishments were not unknown to India, their abolition is of a recent vintage. Forced feeding of certain persons by the State raises concerns of privacy. An individual's rights to refuse life prolonging medical treatment or terminate his life is another freedom which fall within the zone of the right of privacy."
Internet hacking
"Telephone tapings and internet hacking by State, of personal data is another area which falls within the realm of privacy. The instant reference arises out of such an attempt by the Union of India to collect bio-metric data regarding all the residents of this country."
With inputs from agencies