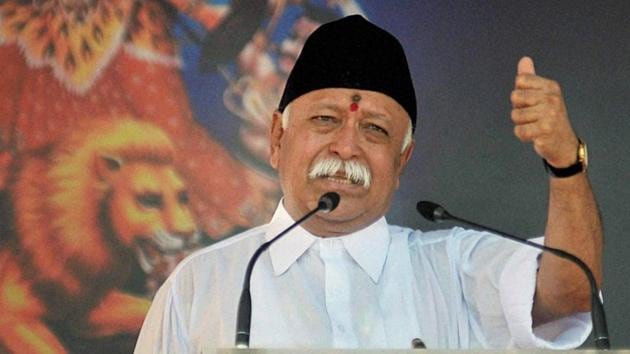 'Same sex marriage not compatible with norms of nature, we don't support it,' says RSS
The comments came on a day the Supreme Court unanimously decriminalised part of Section 377, which criminalises consensual unnatural sex, saying it violated the rights to equality.
UPDATED ON SEP 06, 2018 10:35 PM IST
The Rashtriya Swayamsevak Sangh (RSS), which has maintained an ambiguous stand on homosexuality, on Thursday said it agrees with the Supreme Court's judgment to decriminalise gay sex but does not support same sex marriages.
RSS spokesperson, Arun Kumar, in a written statement, said: "Like the Supreme Court, we also do not consider this [homosexuality] to be a crime. But same sex marriages are not compatible with norms of nature, so we do not support such relations."
The parent organisation of the BJP, the Sangh cited the "traditions of Indian society" as a reason to reject same-sex relationships, pointing out that these have not been conventionally accepted over the years. "Bharatiya (Indian) society also doesn't have the tradition to recognise such relations," Kumar said.
The RSS did not elaborate much on the reasons for its opposition to same-sex marriages, only saying that the issue needs deeper examination. "Human beings generally learn from experience, that is why this issue needs to be taken care of at the social and psychological levels."
Over the years, however, the RSS has softened its stand on homosexuality. The first signs of a change in stance appeared in 2016 when Dattatreya Hosabale, a joint general secretary of the organisation, said: "Homosexuality is not a crime but a socially immoral act in our society." He went on to say that homosexuality should not be punished but treated as a psychological issue.
Ratan Sharda, author of RSS 360 °: Demystifying Rashtriya Swayamsevak Sangh, said the RSS position on de-criminalisation of gay sex is in consonance with the prevalent thought in Indian society that homosexuality is not a crime. "Indian society does not see homosexuality as a crime; our scriptures talk of tritya prakriti (third nature) and the ardhnarishawar (half-man, half-woman as Lord Shiva is sometimes referred to). And sexual inclination is decided at the time of conception as per Sushrut Samhita (ancient Sanskrit text on medicine and surgery).Criminalisation is a Victorian idea born out of Christian world view."
However, penalisation of same-sex intercourse is not unknown. The Manusmriti, a text that codified conduct of upper caste men and women, lays out purification rituals as a punishment for homosexual intercourse, and a monetary fine for intercourse with a woman of an oppressed caste.
As for same-sex marriages, the concept needs to be studied to ascertain their impact on children, he said. "We know that single-parent or out-of-wedlock relationships result in imbalanced growth of children. The West faces a huge problem of violent children, nearly 32% of them are on medically advised antidepressant drugs. Same-sex marriage is an exception in living beings, not a natural law. Thus, this needs very serious scientific study. There can't be a black-and-white answer."
Asked whether the RSS has deliberately chosen to remain ambivalent to avoid upsetting orthodox supporters, a senior RSS functionary not wishing to be named said the RSS has been "dragged into commenting" on what is "essentially a personal preference".
"These issues are not discussed at the shakhas, but since the issue of decriminalising an aspect, which is otherwise private, came up, the RSS made its stand known."
Topics
Close