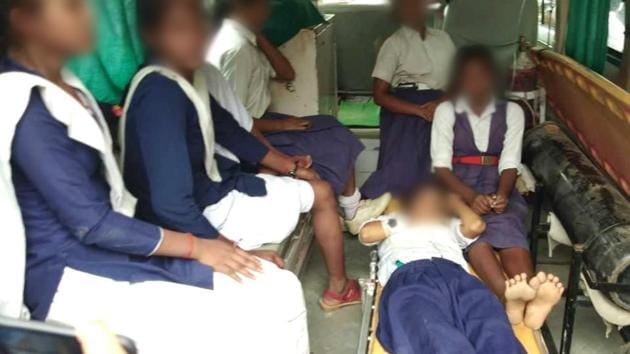 How a 10-year-old girl saved 24 inmates from Deoria's house of horrors in UP
Police conducted a raid on Sunday after the girl narrated about sexual abuse and exploitation at the shelter run by a couple. Twenty-four inmates were rescued and 18 others were missing.
Hindustan Times, New Delhi | By HT Correspondent
UPDATED ON AUG 07, 2018 01:36 PM IST
Even as horror stories continue to pour in from the shelter home in Uttar Pradesh's Deoria, the focus is on the 10-year-old whose brave escape helped save 24 inmates from physical and sexual abuse.
Twenty-four inmates were rescued following a police raid on Sunday in which 18 were found missing. Girija Tripathi, who ran the home, her husband Mohan Tripathi and their daughter were arrested after the raid. The home had been running without a licence for more than a year.
Here's how a 10-year-old managed to escape and save others:
Sunday, August 5, 2018
• Around 10 pm, shelter home in-charge Girija Tripathi askes the 10-year-old from Maa Vindhyavasini Mahila and Balika Sanrakshan Griha to mop the floor
• Tripathi recieves a call and gets engrossed in the conversation.
• "I just ran without thinking and went straight to a police station," she later tells officials.
• She reaches a women police station at 10,30 pm and complains the residents of the home were pushed into sex work by the managers of the facility.
• "We were beaten up by different men for not following their diktat," she tells cops.
• At 11pm, a team led by superintendent of police Rohan P Kanay raids the home and rescues 24 women, including 10 minors
• Kanay calls a press conference and presents Girija Tripathi, the manager of the shelter home, along with her husband
Monday, August 6, 2018
• Police register an FIR against several people. Five, including the couple, are arrested.
• The shelter home is sealed State government suspends district magistrate, district probationary officer.
• State government suspends district magistrate, district probationary officer.
• The girls are taken to Deoria district hospital for medical examination.
Close