How Bishnois' compassion for wildlife led to Salman Khan's conviction in blackbuck poaching case
Updated on Apr 06, 2018 07:18 AM IST
A Jodhpur court on Thursday sentenced Salman Khan to five years in jail for killing two blackbucks, an endangered antelope, in a 20-year-old poaching case, a stunning verdict that dealt a blow to the actor who has Rs 500 crore riding on him.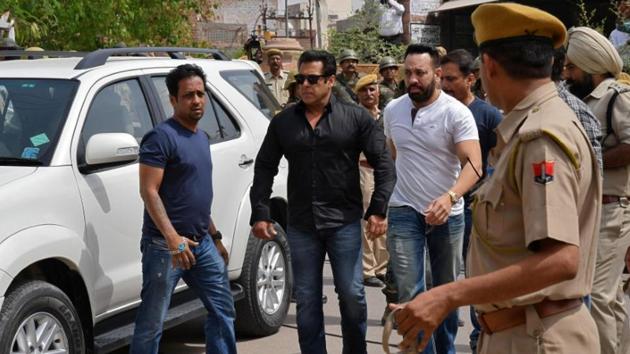 For more than 500 years, the Bishnoi community has served as the guardian angel of wildlife in western Rajasthan – protecting and nurturing animals with love and compassion.
The community's legendary attachment to animals also played a crucial role in the conviction of actor Salman Khan in a 20-year-old blackbuck poaching case, activists and investigators said on Thursday.
Earlier too, the community had played its part in the conviction of Khan in two other cases of poaching chinkara.
In the blackbuck case, Poonamchand Bishnoi was one of the two eyewitnesses to poaching on the intervening night of October 1 and 2 in 1998.
The other was Chhogaram Bishnoi, but he was not part of the prosecution witnesses because of ill health.
"Poonamchand Bishnoi's statements (in court) played the most important part in the conviction," said Mahipal Bishnoi, who represented the community in the three poaching cases against Khan in court.
In the other cases, the actor was convicted of killing chinkaras in Bhawad and Mathania villages but was later acquitted by the Rajasthan high court.
Poonamchand Bishnoi, now a contractor, said he felt "fulfilled" that justice has been done almost 20 years after the incident happened but refused to comment further saying he was out of Jodhpur and had not seen the court order.
The vegetarian Bishnois, a sub-sect of Hindus, believe in compassion for all living beings and protect the entire ecosystem that exists in their villages. Animals like blackbucks and chinkaras, and birds such as vultures, peacocks and the endangered Great Indian Bustard, find safe havens in Bishnoi villages.
Bishnoi women are also known to breastfeed orphaned or abandoned young animals.
There are an estimated 50 million Bishnois spread across north India but mostly concentrated in Rajasthan where the sect was founded in 1485.
Rampal Bhawad, 44, state president of the Bishnoi Tiger Force, said the community follows its founder Guru Jambheshwar's 29 tenets, which include compassion towards animals and plants.
The Bishnoi Tiger Force, formed in 1995, has been in the forefront of lodging cases of poaching in western Rajasthan where it is active.
"We have registered more than 400 cases so far and we make sure that the witnesses in our cases stand their ground in courts. We hold mock courts to train them on how to depose before magistrates and motivate them to remain firm during the trial of the cases," Bhawad said.
Bhawad said the community has lost more than two dozen members trying to save wildlife.
Chief conservator of forest (wildlife) in Jodhpur, RS Shekhawat, said the Bishnois have a strong network and inform the department of poaching cases.
"The community has traditionally been into protection and conservation of the wildlife. It is true that the wildlife of the area owes a lot to their efforts to save it," he added.
Bishnoi Tiger Force members burst crackers outside the court campus and distributed sweets on Thursday to celebrate victory.
Investigating officer Lalit Bora, DNA expert GL Rao and doctors who conducted postmortem examinations on the blackbucks were the other important links in the prosecution that led to the actor's conviction.
Bora, the investigating officer, thanked the Bishnoi community for their commitment to wildlife.
"We had circumstantial evidence and seizures of articles to prove that poaching was done but evidence of eyewitnesses was more important," said the former forest service officer. Bora, 50, took voluntary retirement in 2008 and now works for a cement factory in its environment conservation department.