IAF's Abhinandan Varthaman says he went through a lot of mental harassment while in Pak custody: Report
IAF pilot Abhinandan Varthaman was in Pakistani Army's custody for more than 50 hours after his MiG 21 was downed during a dogfight with a Pakistani F-16 fighter jet on Wednesday.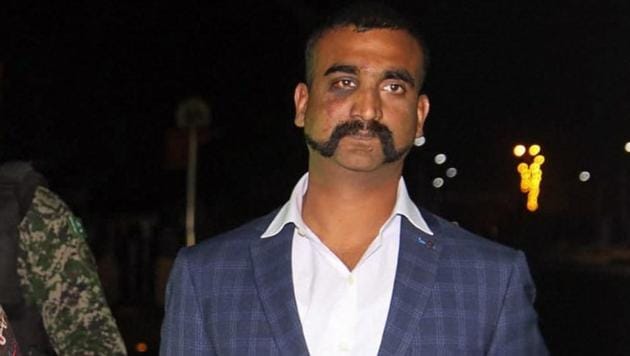 Updated on Apr 20, 2020 05:11 PM IST
Wing Commander Abhinandan Varthaman underwent a string of medical tests on Saturday as part of a "cooling down" process before he is debriefed by the Indian Air Force (IAF) on the 60 hours he spent in Pakistani custody after his fighter jet was downed in a fierce dogfight over the Line of Control (LoC) in Kashmir.
The 35-year-old IAF pilot was first taken to the Air Force Central Medical Establishment on Friday night, where he was evaluated on his physical and psychological states, hours after his repatriation from Pakistan-occupied Kashmir. He was subsequently moved to the Research and Referral Hospital, where he met defence minister NIrmala Sitharaman, two government officials said on condition of anonymity
The officer told the authorities that he underwent mental harassment in Pakistani custody but was not tortured, said one of the officials cited above. "Everyone knows how Pakistan circulated a heavily edited propaganda video featuring Abhinandan to spread disinformation," the official said.
The air force will debrief Varthaman on the February 27 dogfight with the Pakistan Air Force F-16, which he brought down with his MiG-21, and the time spent in Pakistani custody after the approval of specialist doctors who are monitoring his health parameters, said the second official
Also read | 'Good to be back': IAF pilot Abhinandan Varthaman on Indian soil after 58 hours in Pak Army custody
Also watch | IAF pilot Abhinandan Varthaman back home after 2 days in Pak custody
His ability to rejoin his unit in the same role depends on his physical and mental condition.
"The top priority is that he recovers his health. There's a laid down protocol for debriefing in such cases and it will happen after the cooling down process is over. There's no hurry," the second official added.
Varthaman, feted as a hero for the dignity and aplomb he maintained during interrogations by Pakistani officers in subsequently aired video-taped conversations,was captured by Pakistani forces after he ejected from his plane when it took a hit from Pakistani fire .
Varthaman met his parents, who had flown in from Chennai, for about five minutes at the Air Force Central Medical Establishment, a specialist facility where aircrew from the three services are assessed for flying fitness.
Also read | Day after IAF pilot's return, PM Narendra Modi says 'Abhinandan' will acquire new meaning
Defence minister Sitharaman met the wing commander at the RR Hospital in the presence of his wife, Squadron Leader Tanvi Marwah (retd), their seven-year-old son Tavish and Varthaman's sister Aditi, who has flown from France to be with the family for a week.
Shortly after Sitharaman met Varthaman, the defence ministry announced that the officer was in "high spirits".
IAF chief Air Chief Marshal BS Dhanoa also met the fighter pilot who belongs to the air force's No.51 squadron, also known as 'Sword Arms'.
While Abhinandan seems to be in good physical shape, hidden injuries cannot be ruled out at this stage, experts said.
"In ejection cases, there's always a possibility of hidden injuries to the spine and bones. There may be no visual signs of muscular injuries too. MRI and X-Ray tests will establish if there are any injuries. Doctors will conduct a thorough psychological assessment too. All this may take a couple of days," said Air Marshal Pawan Kapoor, who retired as Director General Medical Services (Air) in December 2017.
Experts and officials said Varthaman could return to flying fighter jets depending on his health condition.
"His posture is ramrod straight. He seems to be in good shape and could soon be in the cockpit again. Younger pilots suffer fewer injuries during ejection," said Anil Chopra, who became the first air marshal in the world to eject from a fighter jet seven years ago at the age of 59.
Like Chopra, Varthaman too created military aviation history when he shot down the F-16 . Air Vice Marshal (retired) Manmohan Bahadur, additional director general of the Centre for Air Power Studies, said this was perhaps the first ever kill of an F-16 by an MiG-21 Bison, fighter jets of two different generation.
The IAF said on Thursday it had "fairly credible evidence" to prove that the Mirage 2000 strikes against the Balakot terror camp on February 26 met their objectives and the IAF caused the "intended damage and destruction."
Pakistan had tried to target Indian military installations in the Rajouri sector a day after Indian Mirage 2000 jets bombed a Jaish-e-Mohammed terror camp at Balakot in an unprecedented, peace-time cross-border air strike. Varthaman's return has ended, at least for the time being, heightened tension between India and Pakistan that threatened to snowball into a wider military conflict between the nuclear-armed countries.
Pakistan Prime Minister Imran Khan on Thursday announced his release in what he described as a "gesture of peace" towards India, which carried out the February 26 attack on the Jaish camp in retaliation for the suicide car bombing in Pulwama on February 14 in which 40 Central Reserve Police Force (CRPF) men were killed.
UN Secretary General Antonio Guterres welcomed the return of Varthaman from captivity and called on the two countries to sustain the "positive momentum" and engage in a constructive dialogue, a UN spokesperson said.
Also read | Before 'cooling down' and medical tests, IAF pilot Abhinandan meets family in Delhi
Close Story