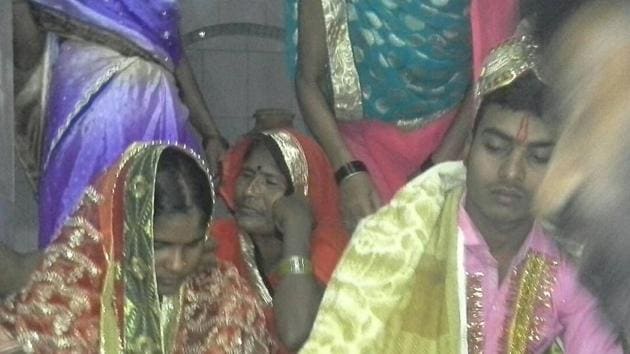 In Bihar's Bhojpur district, do-gooder police play wedding planner to 'runaway' couples
The Bhojpur police's positive role in facilitating the wedding of couples facing family resistance, appears to be giving the south-central Bihar district a positive image makeover.
Jindustan Times, Ara | By Prashant Ranjan
PUBLISHED ON MAY 03, 2017 05:26 PM IST
Bhojpur is often identified with bawdy songs and raunchy videos in Bhojpuri, the dialect that has emanated from the south central Bihar.district bearing this name. But now,the do-gooder actions of the police in Bhojpur are promising to give the district an image makeover of a positive kind.
The Bhojpur police are now drawing approving nods as facilitator and planner of weddings of consenting adults, who may have run into community disapproval or opposition from either or both of the two families, for one reason or another.
Over the past few days, the Bhojpur police have been instrumental in facilitating at least three weddings, by removing the hurdles in the way of cupid struck couples and helping make arrangements for them to take the wedding vows.
In one such instance, the police came to the rescue of Mantosh Kumar, 22, of Jamuwaon village under Sandesh police station of Bhojpur and helped him find his lady love, Jyoti Kumari, 20, of Sakhuwan village under Udwantnagar police station.
On April 29 night, Mantosh, who was surreptitiously visiting Sakhuwan to meet Jyoti, was caught by villagers, given a sound thrashing and handed over to the Udwantnagar police. But, on the following day, the girl came to the police station and confessed to her love for Mantosh.
"Thereafter, with the help of the local mukhia, we tried to persuade the two families to agree to their wedding, impressing upon them that Mantosh and Jyoti were consenting adults. But only the girl's family attended the wedding ceremony, held at an Udwantnagar temple", said station house officer (SHO) Rajeev Kumar.
Again, on Monday (May 1), the Charpokhri police detained a young couple found loitering near Semraon village of Bhojpur district, suspecting the boy and girl may be minors and may have run away from home.But their story turned out to be entirely different.
Both the boy and the girl told the police they were already engaged. Their problem, as it turned out, was whereas their parents wanted the wedding to take place in November, the two were in a tearing hurry to tie the knot immediately!
"I am an adult", said Krishna Sah, 22, of Davath village in Rohtas district of western Bihar. "I am an adult, too", declared his fiancee, Sulekha Kumari, 20, of Sikti village under Garhani police station of Bhojpur. The two were 'caught' together, when Krishna had come to meet Sulekha.
The couple's main grouse was that about a year had passed since their engagement but their parents seemed to be in no mood to expedite the wedding.
It all ended on a happy note when, after police counselling, the two were united in wedding at a Charpokhri temple with the family members of both, the boy and the girl, in attendance.
In yet another instance, Arjun Singh Yadav, 24, of Koshiyar village under Chauri police station of Bhojpur, was, as in case of Mantosh, caught by villagers and handed over to the police when he paid what he hoped was a quiet visit to Madrihan village under Charpokhri police station to meet the love of his life, Rekha Kumari, 22, on Tuesday.
"But both, Arjun and Rekha, told us separately they were in love and wanted to marry each other. So, we made arrangement for the wedding ceremony to take place at a Charpokhri temple", said Charpokhri SHO Kunwar Prasad Gupta.
Bhojpur superintendent of police Kshtranil Singh said the police had only done whatever was expected of them to maintain peace and harmony in the society. "In all three cases, we had consenting adults keen to wed. We only did counselling and made some arrangements to ensure happy endings', he told HT.
Close