In legal notice to govt, Bhushan alleges lapses that may have led to Bt Brinjal cultivation
Supreme Court lawyer Prashant Bhushan said the illegal cultivation of Bt Brinjal in Haryana would justify criminal proceedings against individuals and corporations that have participated in and facilitated its illegal sale and cultivation.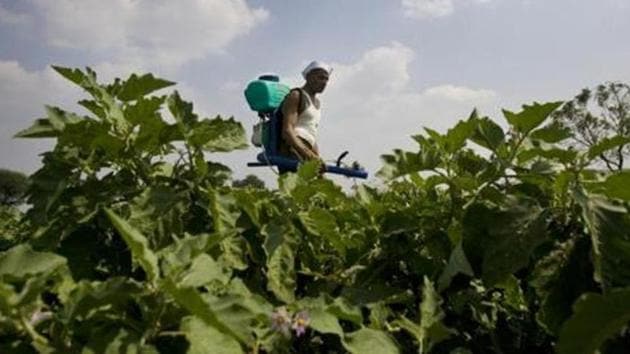 Updated on May 13, 2019 08:16 AM IST
Hindustan Times, New Delhi |
Jayashree Nandi
Supreme Court lawyer Prashant Bhushan on Sunday wrote to environment minister Harsh Vardhan pointing to lapses which may have led to illegal cultivation of genetically modified Bt Brinjal in Haryana.
A test report of a private lab in Ahmedabad was enclosed with the letter. The report says Brinjal samples collected from a farm in Haryana's Fatehabad have tested positive for genetically modified traits. "The sample was analysed for GMO [genetically modified organisms] presence or absence by real-time qualitative PCR [Polymerase Chain Reaction]… according to the test plant, GMO was detected," said the report.
Samples from Fatehabad had tested positive for genetically modified traits after farm activists conducted lateral flow strip tests on them. This prompted the Haryana government last week to sent samples from Fatehabad to National Bureau of Plant Genetic Resources (NBPGR).
Haryana's horticulture department officials said they haven't received NBPGR results.
Bhushan's letter urged the government to act immediately. "…uproot and destroy planted Bt Brinjal in farms and seedlings in nurseries, undertake a scaled-up exercise of testing of seeds and plantings, ascertain the supply chain -- from seed developers to intermediaries -- who are involved? What is the origin of the seed supply? Stiff penalties including criminal prosecution are required."
Bhushan cited the urgency of containing any further contamination of Bt Brinjal. He said nothing short of a self-imposed moratorium was required immediately on the environmental release of any GMO, including field trials.
He said the illegal cultivation of Bt Brinjal in Haryana would justify criminal proceedings against individuals and corporations that have participated in and facilitated its illegal sale and cultivation. Vardhan said he has not seen the letter. "But I will go through it as soon as it reaches me. I read about it [Bt Brinjal]. I have asked my department to give a detailed report on the issue. I may be briefed about it tomorrow [Monday] morning."
Close Story
Personalise your news feed. Follow trending topics