In the digital era, poetry in the city has found its feet and is all set to fly
45-year-old Indu Kriti, a Sector 43 resident has been writing poems since she was 16. In the rigmarole of life, she had stopped writing or reading poetry.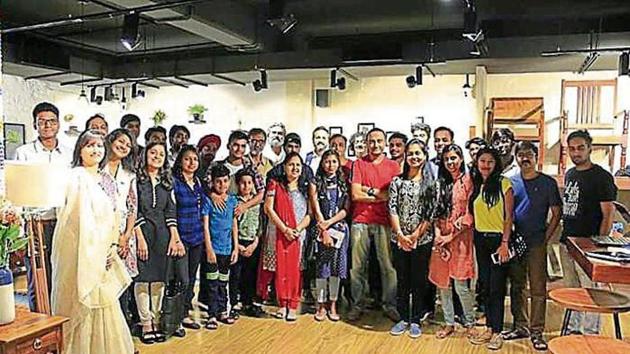 Published on Mar 21, 2019 12:57 AM IST
Gurugram |
Kankana Roy Jain
When you are done playing with colours and water this Holi, think about carrying on the celebrations with some poetry, because Thursday is also World Poetry Day. The city has witnessed a resurgence of poetry, with aficionados of different ages coming together for meets and using social media to bond, express and appreciate each other and their work.
45-year-old Indu Kriti, a Sector 43 resident has been writing poems since she was 16. In the rigmarole of life, she had stopped writing or reading poetry. It all changed for her three years ago, when she came across a poetry meet in the city, on Facebook. She went to that meet and, since then, has been a regular. She said, "Meeting these other people in the city who are so passionate about poetry gave me wings and my poetry a new lease of life. In some time, I started writing again and put up my work on a social media site. The positive comments make me confident, while the negative ones sometimes tell me what I need to work on."
Like Kriti, there were many more in the city who were ardent poetry lovers but did not know how to stay in touch with poetry and literature in the absence of a platform. Indrajit Ghoshal realised this in 2016, when he put up a Facebook post about a poetry event. More than 30 people attended the meet in Leisure Valley Park in response to that online invite. Those 30 people and a few more from the city and Delhi have formed what is today Gurugram's largest poetry club, Poetry Darbaar. Ghoshal said, "All the members of our group are connected through a common love for poetry. The 50-60 of us meet once a month and recite poems, in Hindustani and English. We have poetry enthusiasts from the city, from eight to 80, who attend our meets."
While poetry enthusiasts of the city came together and bonded through social media, giving rise to a thriving poetry reading and reciting culture in the city, it also helped some closet poets in the city come out and express themselves. Seep Agrawal, a resident of DLF, is one such poet, Seep has been writing poems since she was in class 11, but never showed it to anyone for fear of the reception it would receive. She said, "I am extremely critical of my work and always feared criticism of my work because of the subjects I talk about. But when I started seeing other poets' work online, I was inspired. I finally mustered up the courage to put my work online in 2017 and things changed."
Seep was then contacted by poetry clubs online and was asked to recite her work. She said, "Till then, I did not even know what spoken word poetry is. I am still afraid, but meeting like-minded people at poetry events has made me more confident and I don't want to hide my poetry anymore."
Such has the love and passion for poetry grown in recent times, with the leg-up of social media, that younger poetry enthusiasts in the city are considering it as a profession and not just a hobby.
For instance, Sector 52 resident, 22-year-old Arushi Agarwal is a written and spoken word poet. Earlier a consultant with an infrastructure firm, Agarwal left her former position and joined a content marketing agency to better understand how to make her poetry channel reach wider audiences. She said, "I love reciting my own poems and knowing people's reactions to it. Putting my poems on social media helps me get immense feedback, which I then use to sharpen my craft."
As more poets in the city met each other, share their work, and find sounding boards as well as audiences, poetry has begun finding its feet again, transcending the nooks and crannies, and making its way into the mainstream. As Ghoshal said, "Poetry in the digital age is a whole new cultural movement. Veteran Hindustani poets from the city are getting more recognition for their work than ever before, while English language poets fearlessly recite poems on topics earlier considered taboo, like gender bias, mental illness, male privilege, violence against women."
Close Story
Personalise your news feed. Follow trending topics