Incorrect reportage 'alienating' people of Kashmir: J-K CM Mehbooba hits out at media
The chief minister told a three-member Press Council of India delegation that the need of the hour was to focus on commonalities, reconciliation and healing wounds.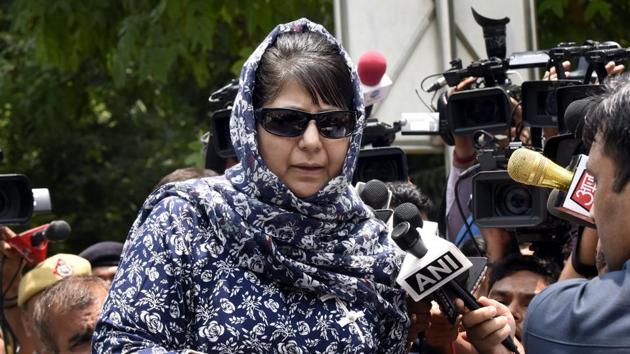 Published on Jul 22, 2017 11:48 PM IST
Press Trust of India, Srinagar |
, Srinagar
Press Trust of India
Chief minister Mehbooba Mufti on Saturday said the press needed to ensure correct and contextual portrayal of happenings in Jammu and Kashmir, and abstain from debates and reportage which were "far from reality".
In an interaction with a visiting Press Council of India (PCI) team here, Mufti alleged, "A section of the country's media has been indulging in debates, discussions and reportage about the state and its people, most of which is far from reality. This section needs to be reminded that by resorting to this diatribe about the state, they are not doing any service to the country but further alienating the people of the state."
The chief minister told the three-member PCI delegation led by SN Sinha, that the need of the hour was to focus on commonalities, reconciliation and healing the wounds where the media had a critical role to play.
"Positive reporting about the state and its people by the media outlets will not only create a soothing impact on the minds of people here, but also help the people of rest of the country in understanding Jammu and Kashmir and its people better," she said.
The chief minister invited the PCI to hold part of its golden jubilee celebrations in the state.
Later, the delegation called on former chief minister and opposition National Conference (NC) working president Omar Abdullah at his residence.
Omar told the delegation that a free and fair press was the bedrock of a healthy democracy and all should endeavour to ensure the ethos of objectivity, press freedom and neutrality were upheld and maintained at all costs.
The NC working president said it was imperative to ensure that the reportage from Kashmir, especially that by the electronic media, was factual and free from any hyperboles, biases and prejudice.
"The wrong portrayal of evolving situations in Kashmir has a disastrous effect on our tourism industry and also takes us further from peace. The goals of objectivity and neutrality should be non-negotiable and we should all ensure we don't add to the alienation - especially among the youth," Omar said.
The PCI team, which arrived here on July 16, held extensive deliberations with media owners, editors and working journalists over the past four days to know about the issues confronting the media in Kashmir.
The team will be visiting Jammu and Ladakh separately before finalising their report on the media scenario in Jammu and Kashmir.
Close Story