India can play important role in Palestine issue, says President Mahmoud Abbas
The Palestinian President said India's role will have significance as it had good relations with both Palestine and Israel.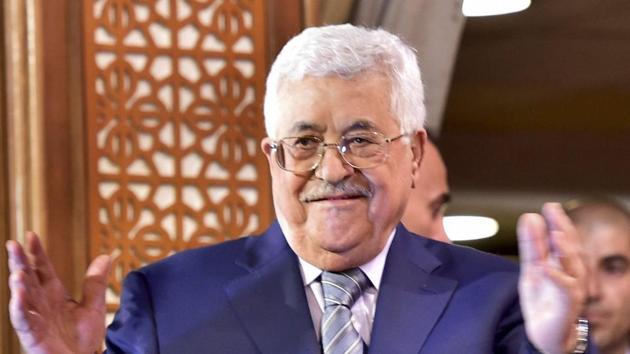 Updated on May 16, 2017 12:25 AM IST
India can play "a very important role" in resolving the dispute between Palestine and Israel, Palestinian President Mahmoud Abbas said on Monday, on the eve of his talks with Prime Minister Narendra Modi here.
Abbas, who is being hosted by India ahead of Modi's first ever visit to Israel, said New Delhi's role will have significance as it had good relations with both the countries.
"There should be a role for India in making peace in our region. India has played this role (by supporting the Palestinian cause) and we are looking forward that India continues to play the same role," he said while delivering a lecture in New Delhi.
He said he will ask Modi on Tuesday to use India's "good offices" in bringing in peace between Israel and Palestine.
Palestine is against any kind of military intervention to resolve the dispute, said Abbas who will also be meeting his Indian counterpart Pranab Mukherjee on Tuesday.
Abbas' comments assume significance as Modi is slated to visit Israel in a couple of months, which will be the first by an Indian Prime Minister.
India has been a vociferous supporter of the Palestinian cause.
The Palestinian president said during his meeting with Modi and Mukherjee, he will also apprise them of the ongoing political developments in Palestine and the Middle East.
Condemning terrorism by ISIS, Abbas said ending the "Israeli occupation" will greatly help in countering terrorism in the region.
"So, achieving this justice is the basis for success in fighting terrorism being practised by terrorist groups such as ISIS in the region. We condemn all their barbaric activities," he said.
The Middle East region, Abbas said, was living in a state of instability and conflict, especially after the Arab Spring, which is "castastrophic" for the region and its people. "It has inflicted severest damage to the stability and integrity of the social fabric," he added.
Abbas also pitched for an agreement with India on religious tourism as Palestine has several religious shrines.
The Palestinian president is on a four day visit to India from May 14 to 17.
Close Story
Personalise your news feed. Follow trending topics