India reaffirms pledge to step up reconstruction initiatives in Afghanistan
Oct 25, 2017 08:31 AM IST
Prime Minister Narendra Modi told visiting Afghanistan President Ashraf Ghani that India supports a negotiated political reconciliation that is Afghan-led, Afghan-owned and Afghan-controlled.
Prime Minister Narendra Modi reaffirmed on Tuesday India's pledge to step up reconstruction initiatives in Afghanistan and called for joint efforts to combat terrorism.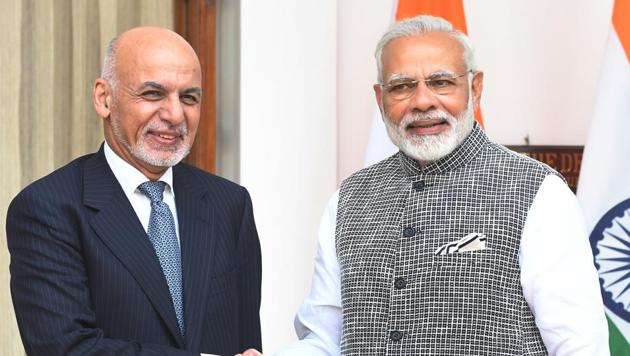 He told visiting Afghanistan president Ashraf Ghani that India supports a negotiated political reconciliation in his country not dictated by any other nation.
"The Indian leadership reiterated its support for a negotiated political reconciliation in Afghanistan that is Afghan-led, Afghan-owned and Afghan-controlled. It was emphasised that renunciation of violence and terror; and closure of cross-border safe havens and sanctuaries were essential for any meaningful progress and lasting peace," the foreign ministry said in a statement.
India blames Pakistan-based terrorist outfits for the instability in Afghanistan and the region.
This was Ghani's fourth visit to the country in three years and 12th personal interaction with Modi, the latest after the US announced a new Afghan policy that sought a larger role for India and faulted Pakistan for doing little to rein in terrorist outfits.
India refused to send troops to Afghanistan but promised to expand its humanitarian efforts.
Modi and Ghani reviewed India's new development initiatives in Afghanistan. Ghani's visit concluded hours before US secretary of state Rex Tillerson arrived in New Delhi.
India is one of the biggest regional donors of Afghanistan and has pledged $3.1 billion to the country since the ouster of the Taliban regime in November 2001.
The new projects cover health, agriculture, drinking water, education, renewable energy, infrastructure and skills development, and capacity building.
The two leaders agreed that these will accelerate Afghanistan's reconstruction and economic development, and provide effective governance.
The Indian side pledged more assistance, if the need arises, to strengthen Afghan military and police forces. India has trained thousands of Afghan defence and security personnel.
Connectivity was another major topic of discussion. India hopes to send in the coming weeks wheat through Iran's Chabahar port, which "would shape new trade and transit opportunities for landlocked Afghanistan".
New Delhi also reiterated that it is ready for an integrated check post at Attari on the India-Pakistan border for Afghan trucks carrying goods to and from India.
Ghani also called on President Ram Nath Kovind and met external affairs minister Sushma Swaraj.