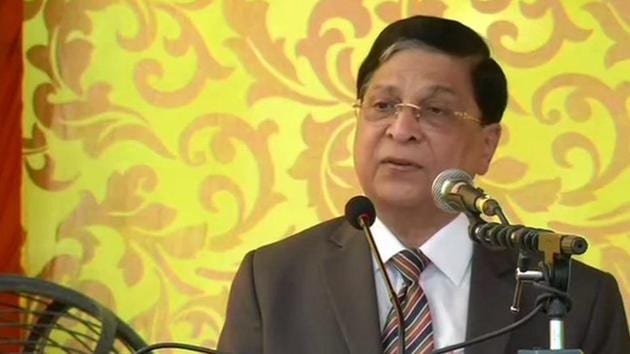 Justice must have human face, says CJI Dipak Misra
Justice Ranjan Gogoi, who will be sworn-in as the CJI on Wednesday, said Justice Dipak Misra was a remarkable judge.
UPDATED ON OCT 01, 2018 11:09 PM IST
The outgoing Chief Justice of India (CJI), Dipak Misra, said India's judiciary is one of the most robust and strongest institutions in the world, even in the face of attacks and in troubled times. "Our judges are ahead of their counterparts in other parts of the world," he added, referring to their ability to deal with complex issues.
Justice Misra, India's 45th chief justice, has presided over several important cases , and been part of benches that have delivered important judgments – decriminalising homosexuality, ruling that privacy is a fundamental right, establishing the constitutional validity of Aadhaar even while protecting the rights of individuals, and allowing women of all ages to enter Sabarimala.
Referring to some of these, Justice Misra's successor, Ranjan Gogoi, who takes over on October 3, said he will continue in the footsteps of a judge who has played a part in settling several challenging cases. "I believe that profound constitutional questions can rarely be separated from the political salient issues of the times. In fact, it is precisely in times like this that the resilience of our commitments are tested," justice Gogoi said.
Personal beliefs and tastes must be constantly evaluated on the touchstone of constitutional morality and that is true patriotism to the Constitution, justice Gogoi added. Both the CJI and he were speaking at the farewell ceremony organised for the former by the Supreme Court Bar Association (SCBA) .
"It is perhaps right to suggest that we live in times of great political churning across the world. Today, alongside a huge diversity of thought and opinion, there coexist conflicting world views. We are divided, perhaps more than ever, by lines of castes, class, gender and religion. We are divided into infinitely variegated communities, which crisscross such lines to give us our identities. What we should wear, what we should eat, what we should say, read and think – these are no longer small and insignificant questions about our personal life. However, even as they give us identity and purpose and enrich the greatness of our democracy, these are issues that cut and divide us and they make us hate and despise those who are different. The challenge then is to construct and protect a common world view that genuinely unifies us as a community," said justice Gogoi.
It is the Constitution that provides this, he added.
Neither judge referred to or appeared to be discomfited by the unprecedented January 12 press conference in which four senior judges, including justice Gogoi, had aired their grievances over the way the CJI was administering the court.
On Monday, they both spoke the same language.
"I echo the feelings of my learned brother justice Gogoi that the independence of judiciary stands erect and that it shall stand erect and there is the collegiality amongst the brothers and sister judges of the court and the Supreme Court stands supreme, not today, but in times ever to come," CJI Misra said.
Attorney general KK Venugopal praised CJI Misra for his judgments and called him a "gender warrior."
"Legal justice delivery should be improved. Glad that CJI-designate Ranjan Gogoi said that he will be trying to tackle pendency," he added.
Close