Irom Sharmila ends fast, says 'want to become Manipur CM'
Hindustan Times |
, Imphal
Rahul Karmakar and Sobhapati Samom
Aug 09, 2016 11:27 PM IST
Marathon hunger-striker Irom Sharmila was granted bail by a local court in an attempted suicide case on Tuesday after she signed a personal security bond during a hearing that lasted about three hours.
Activist Irom Sharmila who waged the world's longest hunger strike ended her 16-year fast on Tuesday with a drop of honey and said she wants to become Manipur's chief minister to repeal an army law blamed for rights abuses by security personnel.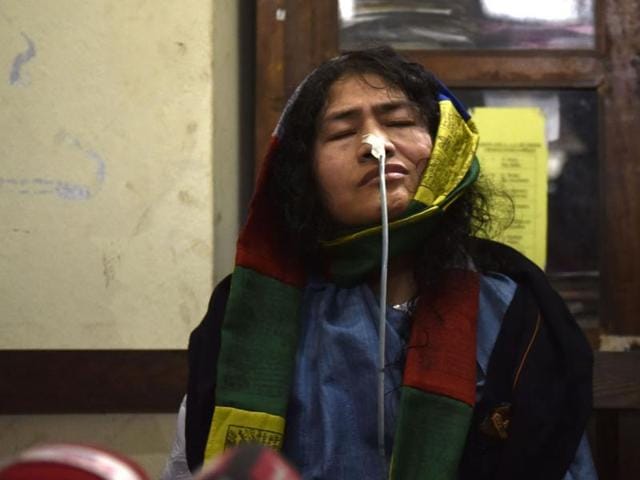 With tears flowing down her cheeks, the 44-year-old woman known as the 'Iron Lady of Manipur' licked honey off a finger shortly after she was granted bail by a local court, signaling the end of her protest that started in November 2000.
"I got nothing out of fasting for 16 years. I want to contest election and become chief minister because I need power for a big change in society and system," Sharmila said at the government hospital where she has spent most of the 16 years in judicial custody. Attempted suicide is still an offence in India.
Speaking to reporters without the nasal pipe, through which she was force fed and had become part of her persona, Sharmila said ending her fast did not mean ending the movement against the Armed Forces (Special Powers) Act (Afspa).
"I want to try a different method of agitation." Assembly elections in the state are due early next year.
She also had an appeal for Prime Minister Narendra Modi, who spoke on Kashmir during the day in an attempt to reach out to the people of the valley where also the Afspa is blamed for rights violation by security forces.
"Rule the country with fatherly affection, not with draconian laws. And stop violence in this age of globalisation and credo of development for all," said Sharmila.
However, she also faced angry protesters – mostly women –for allegedly diluting her battle against the Afspa. The protesters heckled her and did not allow her to enter the house of a doctor in Imphal. She was later escorted back to the hospital.
"With my blood let them wash their doubts and emotions," she said after being released on bail.
Authorities said police would maintain an escort for Sharmila because radical groups and rebels had threatened her for ending the strike, seeing it as weakening the fight against the military law.
Read | As it happened: Manipur's Iron Lady Irom Sharmila ends 16 year fast
The Afspa, which is force in some northeastern states and Kashmir, gives security forces the right to shoot to kill suspected rebels and to arrest suspected militants without warrants. It also gives police wide-ranging powers of search and seizure. The act also prohibits soldiers from being prosecuted for alleged rights violations except with express permission from the government. Such prosecutions are rare.
Amnesty International, which had once described her as a "prisoner of conscience", said her decision to end the fast was an opportunity for the Indian government to scrap the law.
Sharmila said she would decide on Wednesday where to go – her mother's place, as tradition demands of an unmarried daughter, an ashram or somewhere else.
Read | Irom Sharmila: The 'Iron Lady' who waged a war against Afspa
Doctors want Sharmila to stay for a month at the hospital for her body to get used to solid food after phases of liquid and semi-liquid diet.
On her long-distance romance with Desmond Coutinho, a British citizen of Indian origin, she said it was right to choose. "It is my personal life and it is natural."
The legal hassles for Sharmila are not over though. The court has fixed August 23 for her reappearance to examine whether or not she is guilty of attempt to commit suicide under section 309 of Indian Penal Code.
Read | 10 things you need to know about 'Iron Lady' Irom Sharmila
Read | Irom Sharmila's decision to end hunger strike draws 'surprise, respect'