As it happened: Manipur's Iron Lady Irom Sharmila ends 16-year fast
Updated on Aug 09, 2016 06:17 PM IST
Manipur's 'Iron Lady' Irom Sharmila got bail from a Imphal court on Tuesday after she promised the magistrate to break her 16 year fast against AFSPA.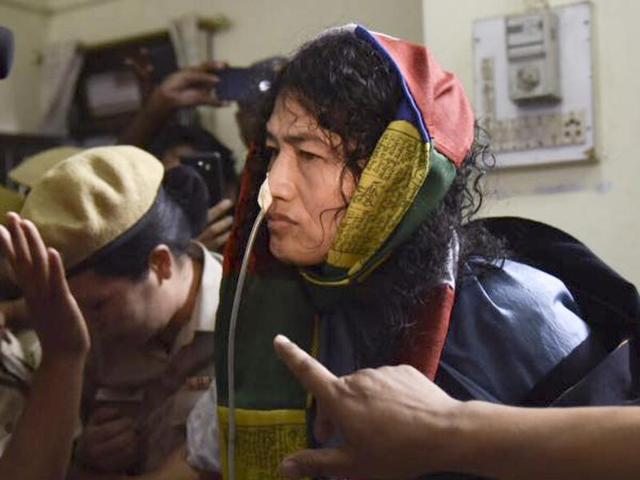 Hindustan Times |
, Imphal/new Delhi
Rahul Karmakar, Sobhapati Samom and Abhimanyu Kulkarni
Manipur's 'Iron Lady' Irom Sharmila ended her 16 year fast against Afspa on Tuesday and said that she wants to join politics after getting bail from an Imphal court.
"The court examined two witnesses. She has now got bail on personal bond of Rs 10,000," Sharmila's lawyer L Rebada Devi told reporters.
The court is yet to give her release orders and till then Sharmila has been taken back to judicial custody.The next date of hearing in the case is August 23.
Court officials told PTI that the court will issue the order to the jail authority to formalise her release on Tuesday itself.
Here is a look at what happened through the day:
5:01 pm: Want to contest polls because I need power for big change in society and system,says Irom Sharmila.
5:00pm: Will decide tomorrow where I will stay: Sharmila
4:50 pm: Stop indulging violence in the era of globalisation amid slogans for development for all, Sharmila said in a message to PM Modi.
4:45pm: I know nothing about politics, and about academic line also. My education is very very low: Sharmila
4:40 pm: Let them kill me the way people killed Mahatma Gandhi with accusation of anti-Hindu, says Sharmila on being asked about on receiving death threats.
4:10 pm : I don't understand why some radical groups are against me wanting to get into politics?, says Sharmila.
4:00pm: I want to join politics as I've been called the Iron lady of Manipur & I want to live up to that name, says Irom Sharmila addressing media at Imphal.
2.10pm: I want to become Manipur CM and remove Afspa, says Irom Sharmila after getting bail.
2.05pm: "I have been fasting for 16 years and not got anything from it. I want to try different agitation now — one that will see me contest against the Chief Minister of the State," says Irom Sharmila
2pm: Irom Sharmila has been released on a personal bond of Rs.10,000, says Irom Sharmila's lawyer. The next hearing of the case is on August 23
1.30pm: "Why can't people see me as a normal person," asks Sharmila
12.15am: Sharmila asks the court to shorten the procedure, says "I don't want your legal system to detain me wrongly."
11.55am: The judge wishes Sharmila best of luck on her political aspirations. She intends to contest in Manipur polls as an independent candidate.
11.45am: Court official says Sharmila's proceeding will go on for another hour
11.40am: Sharmila court proceeding crosses 40 minute, much more than the average 10 minutes in past 16 years
11.20am: The court agrees to free Sharmila if she submits a bond. Manipur intel man says Sharmila refused to sign bond for release
11.15am: Court proceedings begin
10.53am: Sharmila reaches court in ambulance and amid tight security. Once she breaks her fast, the court is likely to release her from judicial custody.
10.30am: Irom Sharmila leaves from Imphal hospital where she has been lodged as a prisoner for 16 years.
(With inputs from agencies)
Personalise your news feed. Follow trending topics