Bombs, rocket launcher: NIA says busted ISIS module was ready to attack on New Year's eve
NIA Inspector General, Alok Mittal, said they had seized 135 mobile phone SIM cards as well as over 100 alarm clocks and over 25 kg of chemicals that were to be used to make scores of remote-controlled bombs.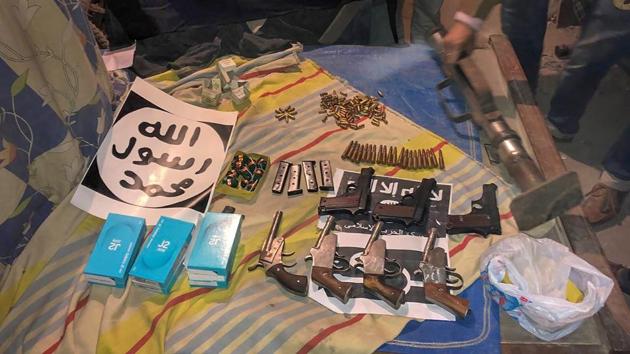 Updated on Dec 26, 2018 07:01 PM IST
Hindustan Times, Delhi |
Rajesh Ahuja
A major ISIS-inspired terror module preparing to launch a string of terror attacks targeting politicians, key locations and crowded places has been busted, the National Investigation Agency said hours after raids in Delhi and Uttar Pradesh. The raids are still continuing, senior NIA officer Alok Mittal said, announcing the arrest of 10 terror suspects on Wednesday.
Mittal said the simultaneous searches at 17 places in UP and Delhi with help from local anti-terror squads had led them to a large quantity of explosives and weapons.
"They weren't just making some bombs but a large number of bombs," the senior NIA officer said. To give an insight into the scale of the attacks that the module had been prepping for, Mittal said they had seized 134 mobile phone SIM cards, as well as 112 alarm clocks and over 25 kg of chemicals that were to be used to make scores of remote-controlled bombs.
The alarm clocks are used as timers to detonate the bombs; the fresh phones to either communicate without risk of being tracked down or to trigger bombs.
A rocket launcher that the group had fabricated and 13 pistols have also been seized.
"The level of preparation showed they were planning to attacks in near fidayen attacks," Mittal added.
The module had been set up by a Mufti Suhail who works in a mosque in Uttar Pradesh's Amroha district, he said.
"It was a self-financed operation. They stole gold ornaments from their homes and sold it to fund their activities... but there is a handler who was guiding them, who appears to be based in a foreign country," the senior NIA officer said.
Read More | Terror in numbers: 120 clocks, 25 kg explosives, 100 phones, 135 SIM cards
Mittal said five of the 10 arrests had been made in Delhi. "Sixteen people were detained for questioning and 10 people have been arrested so far... more people could be arrested," he said.
This group had come to the notice of the federal investigation agency about three-four months back but it had taken investigators time to unravel the conspiracy.
For the last few years, the intelligence officials have been tracking the growing influence of the Islamic State in India and are keeping a close watch on those being radicalised by its ideology.
Read More | To finance ISIS-inspired module, terror suspect stole family gold
In December 2017, a report by the ministry of home affairs had said that the NIA had arrested as many as 103 accused in cases against ISIS cadres, the maximum number of people being from Uttar Pradesh.
Of the 103 arrests in connection with ISIS sympathisers or modules, 17 arrests had been from Uttar Pradesh.
Intelligence agencies have in the past traced and busted small IS cells in Kashmir as well as in southern states such as Kerala, Karnataka and Andhra Pradesh.
On March 7, 2017, in what is the first recorded strike by an IS module in India, the Bhopal-Ujjain passenger train had been rocked by a powerful blast that had left 8 people injured.
Topics
Close Story
Personalise your news feed. Follow trending topics