Cops abducted in retaliation for raid to arrest Jharkhand gangrape masterminds
Jun 27, 2018 12:47 PM IST
The guards at Khunti MP Karia Munda's house were kidnapped hours after a police raid on Udbhuru village to arrest two leaders accused of masterminding the gangrape of 5 women activists.
Three policemen guarding the ancestral house of a BJP parliamentarian in Jharkhand's Khunti district were on Tuesday abducted by supporters of a tribal rebellion resisting the arrest of two leaders accused of masterminding the gangrape of 5 women activists last week.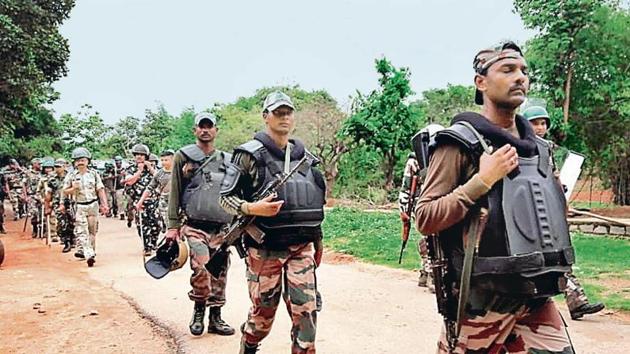 The guards at Khunti MP and former Lok Sabha deputy speaker Karia Munda's house were kidnapped hours after an early morning a police raid on Udbhuru village, about 55 km from Ranchi, to arrest Yusuf Purty and John Jonas Tidu. Nearly 2000 villagers tried to prevent 500-strong police contingent from entering the village. A villager was injured in a police lathi-charge that followed and tension spread to nearby villages.
Purty and Tidu, who escaped, are two of the leaders of the so-called Pathalgadi movement. Pathalgadi refers to a traditional system of disseminating information by writing on stone plaques. This has been adopted by several tribal villages in the state to declare their independence from government control. Stone plaques proclaiming the sovereignty of the village councils have been put up outside these settlements across Khunti, Simdega, Gumla and West Singhbhum districts, warning visitors against entering these villages.
"We raided the houses of Tidu and Purty in the morning. It seems that Pathalgadi supporters helped them to escape but we have attached their properties," said Khunti Superintendent of Police Ashwini Kumar Sinha.
In retaliation to the raid, nearly 300 villagers swooped down on Munda's house at nearby Chandidih village and abducted the policemen, Subodh Kujur, Vinod Kerketta and Suyom Surin, after snatching their official INSAS rifles.
"All measures are being been taken to rescue them," said additional director general (operation) RK Mallick.
Police later said the captives are being held at nearby Ghagra village, which has been cordoned. Earlier in the day, police dispersed a gathering at the same village to prevent a Pathalgadi ceremony.
Pathalgadi leaders have reportedly said they are ready to hold talks for releasing the guards, but on the condition that authorities a send a team of only five officials for the negotiations.
On June 19, five tribal women working with a non-governmental organisation were abducted by six men while performing a street play at RC Mission School in Khunti's Kochang village under Arki police station, about 90 km from Ranchi. They were taken to a nearby forest area and raped.
Kochang is a Pathalgadi village. The activists went there to create awareness against social evils including human trafficking.
Additional director general (operation) RK Mallick said the two men arrested for the crime, Ajub Sandi and Ashish Longo, confessed they raped the women and videographed the act on the direction of Tidu, who wanted to teach them a lesson for entering the village.
In the past, too, police have been held captive in Pathalgadi villages, which are mostly situated in dense forest areas said to be the hotbed of rebel outfit People's Liberation Front of India (PLFI).