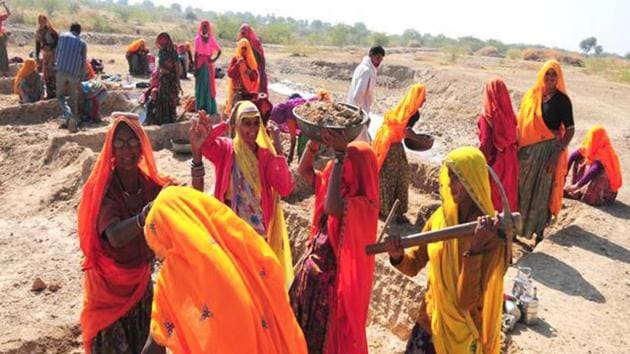 Jharkhand MNREGA workers return Re 1 to PM, CM to protest 'meagre' hike
The workers stage the unique protest against the Centre's decision to increase their wages from Rs 167 to Rs 168.
Hindustan Times, Ranchi/ Latehar | By Sanjoy Dey & Vishal Sharma
UPDATED ON MAY 02, 2017 02:24 PM IST
Several Jharkhand MNREGA workers have returned Rs 1, the amount the Centre has increased in their wages, to Prime Minister Narendra Modi and state chief minister Raghubar Das to protest the meagre hike.
The union government has recently increased the wages for the Jharkhand workers under the Mahatma Gandhi National Rural Employment Guarantee Act (MNREGA) from Rs 167 to Rs 168.
This is the lowest annual hike of MNREGA wages in the state in last 11 years. Last year, it was increased by Rs 5. Even then the workers had resorted to the unique protest.
Workers on the occasion of the International Labour Day took out a protest rally in Latehar's Manika block and sent over 100 envelops enclosed with Rs. 1 note to the Prime Minister and Jharkhand chief minister, asserting that they could do without the government's "generosity."
"Government doesn't have money for its workers as it has many big projects to carry out for businessmen and industrialists," said Sukhmani Devi, 35, a MNREGA worker from Latehar.
Another worker Mahavir Parahiya said "State government spent several crores to organise the global investors' meet but it has no time to think about labourers, who are forced to migrate to other states for jobs."
The MNREGA workers in the state get less than the minimum wage fixed by the Jharkhand government for labour. The minimum wage for the non-MNREGA workers is Rs 224.
The national real wage of the country had risen 20% in ten years, while the increase for the MNREGA workers had been only 4.7% during the same period, a rural department official said.
Noted economist Jean Dreze said, "Giving a hike of Re 1 is nothing but a conspiracy to discourage MNREGA workers. If workers continue to get poor wage, they will shift to other jobs, sounding a death knell to the scheme."
Terming it a violation of rights of labourers, Dreze demanded an appropriate hike in their wages.
Jharkhand government in March this year had also expressed disappointment over the poor wage hike.
The state chief secretary, on March 15, had shot off a letter to the union rural development ministry secretary Amarjeet Sinha and had requested him to revise the upgraded wage for the MNREGA workers to make it at least at par with the minimum wage rate for agricultural labour.
The letter also mentioned that the revised MNREGA wage rate for financial year 2017-18 was Rs 56 less than the state's minimum agricultural wage.
It stated that the state's minimum wage had increased by 212 percent between 2007 and 2017, whereas the corresponding increase in MGNREGA wage had been only 94 percent.
Close