Jolt to Himachal CM Virbhadra Singh as close relatives switch over to BJP
Oct 12, 2017 11:00 PM IST
The CM wife's brother Veer Vikram Sen and sister –in- law Vijay Jyoti Sen joined BJP.
At a time when he was readying his strategists for Himachal Pradesh assembly polls, chief minister Virbhadra Singh received a jolt – his close relatives switched over to Bharatiya Janata Party (BJP).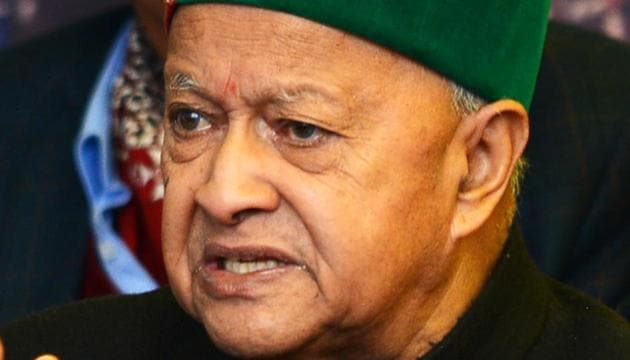 Just before election dates were announced for Himachal Pradesh, Singh's wife's brother Veer Vikram Sen and sister –in- law Vijay Jyoti Sen joined BJP in presence of party in charge and Bihar health minister Mangal Pandey.
Scion of Junga Royal family, Vir Vikram Sen, had remained party's block Congress president for Kasumpati segment, adjoining the state capital. During 2012 assembly elections, Kasumpati assembly segment saw a blue- blooded electoral battle as his wife Vijay Jyoti Sen contested independently against Anirudh Singh, scion of the princely state of Koti. Sen secured 6,430 votes around 18% of total polled.
Vir Vikram Sen resigned from Congress in 2012 when ticket was denied to his wife. Vijay Jyoti was the chairperson of Mashobra block samiti earlier. Vir Vikram Sen's younger brother Prithvi Vikram Sen had earlier joined the BJP and is among the ticket aspirants from Kasumpati assembly segment, where the saffron party does not have a strong candidate to face first-time MLA Anirudh Singh. However, she was not a Congress member at the time of rebellion.
Name of Vijay Jyoti Sen was discussed in the election panel meet held at Naina Devi on Wednesday from Kasumpati and she is a probable BJP candidate.
More than a dozen workers joined party in presence of Mangal Pandey, Shimla legislator Suresh Bhardwaj and local parliamentarian Virender Kashyap. Pandey said, "Chief minister's relatives have joined BJP today. It shows the condition of Congress. We have not promised ticket to anyone, that is party high command to decide but sphere of party is increasing day by day," Pandey said.