Justice delayed is justice denied: Yogi Adityanath on Supreme Court deferment of Ayodhya hearing
Updated on Oct 31, 2018 10:34 AM IST
Uttar Pradesh chief minister Yogi Adityanath on Tuesday said the majority community in the country expects an early Supreme Court verdict in the Ram Janambhoomi title suit saying "justice delayed is justice denied".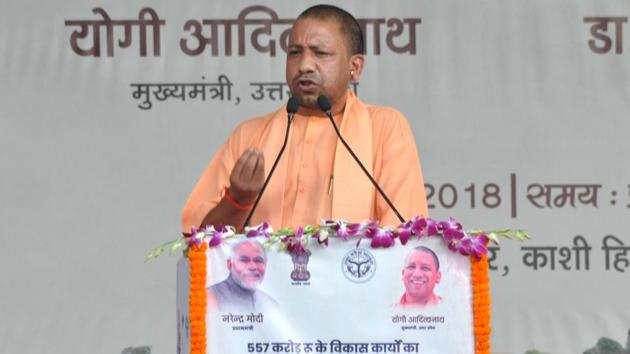 Uttar Pradesh chief minister Yogi Adityanath on Tuesday urged saints expressing their displeasure at the Supreme Court's decision to defer the Ram Janmabhoomi case till January 2019 to keep "calm", although he made it clear whose side he is on. "Timely justice is the best one. Justice delayed, at times, means injustice."
Joining other Bharatiya Janata Party and Sangh Parivar leaders who have openly expressed their dismay at the case being deferred till next year, Adityanath added: " All peace loving people desirous of an end to the age-old dispute are hoping for expeditious solution and such public sentiment needs to be respected. Our government counsel too had made a similar prayer before the Supreme Court."
The Uttar Pradesh chief minister stopped short of joining the chorus for a law or an ordinance. "I think all those solutions that lead to peace and amity are good solutions. Best would be if a solution is found through consensus but there are other options too after that. I think the best possible solution would be adopted."
Speaking to reporters at his official residence in Lucknow, Adityanath said he was in favour of an early resolution to the case, before the Lok Sabha polls next year. "Ram Janmbhoomi is in UP and hence law and order and security are our responsibilities and we would discharge our duties well."
A delegation of saints in Ayodhya plan to meet Adityanath and seek appointment with Prime Minister Narendra Modi and the CM's appeal to the saints is being viewed as an attempt to keep the saints in good humor ahead of the 2019 Lok Sabha elections. "Yes, the saints are angry and their patience is running thin. We will definitely seek an audience with BJP leadership," said Sharada Sharma VHP's Ayodhya-based spokesman.
Adityanath, also the head priest of the Gorakhnath temple, advised the saints pressing the BJP government for an early solution to keep calm.We respect saints and their blessings have always been there for the temple cause. But I will only say that people shouldn't leave patience in an adversity and face any challenge resolutely."
The Congress wondered if the CM's remarks amounted to contempt. "I guess we all are shocked at the CM's remarks. Right through they have been pre-empting the SC judgement. Now, they are also questioning the deferment. And then these leaders claim they have great faith in judiciary," said Congress secretary Devendra Pratap Singh.
UP BJP spokesman Chandramohan had a different take: "Despite being ideologically inclined to the temple cause, Adityanathji has shown he is a great leader and administrator by appealing to the saints to exercise restraint. This is unlike the Congress who had brazenly tweaked the SC judgement in the Shah Bano case for narrow vote bank gains."
Personalise your news feed. Follow trending topics