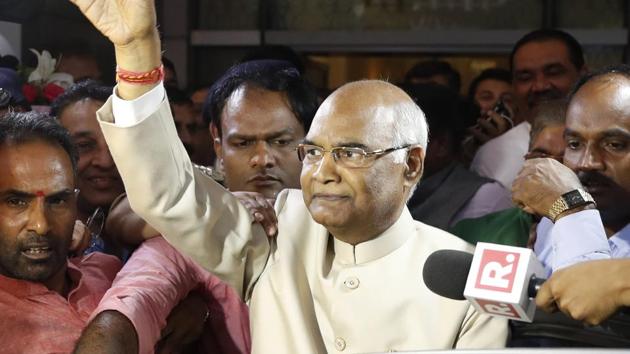 Kanpur to Delhi via Patna: Ram Nath Kovind's road to Rashtrapati Bhawan
The former governor of Bihar, Ram Nath Kovind won against the Opposition Meira Kumar with 2,930 votes which hold a value of 7,02,044 (more than 65% votes).
UPDATED ON JUL 21, 2017 07:43 AM IST
Savita Kovind was at her North Avenue apartment when BJP chief Amit Shah announced in a press conference that the party has decided to project her husband – 71-year-old Bihar governor Ram Nath Kovind – as its candidate for the presidential election. She had come to Delhi for eye treatment only four days ago.
An excited Savita tried calling her husband for the next four hours, but to no avail. When she finally managed to get through to him, Kovind said he would be reaching the Capital that very night. "She wasn't angry with him for not taking her calls," an associate told HT. "Both of them were very happy."
People close to Savita told HT that she was not overjoyed about Kovind relocating to Lucknow as the party's Uttar Pradesh general secretary in 2013. It was a demotion of sorts, she felt, for a national spokesman to return to state politics.
However, things took a turn for the better soon enough. Shah replaced Narendra Singh Tomar as the party's Uttar Pradesh in-charge and started working on a Dalit-OBC outreach plan. That was how Kovind got in touch with him for the first time. The Dalit leader's no-nonsense politics helped build a rapport with Shah rather quickly.
Though Kovind wanted to contest the Lok Sabha election, he could not get a ticket. However, his proximity with Shah helped him bag the post of Uttar Pradesh governor soon enough.
Despite being a two-time Rajya Sabha MP, a former BJP spokesperson and the Bihar governor, Kovind was never an integral part of the Lutyen's Delhi community. As a member of the upper house, he resided at 53 South Avenue. Later, when he was appointed the Bihar governor, the 144 North Avenue apartment was allotted to him. Little did Kovind know back then that he would someday occupy Rashtrapati Bhawan – one of the most important political landmarks on the Indian landscape – located between his former South Avenue and North Avenue residences.
Kovind's journey from South Avenue to the presidential office was hardly sensational. When Shah announced his candidature, thousands frantically scoured Google to understand who he was. He wasn't a very familiar face to politicians outside the BJP either.
The Kanpur-born politician's CV has quite a few highlights. A law graduate, he cleared the civil services examination but did not join it. He, instead, worked as a personal associate for Morarji Desai before the latter became Prime Minister.
In fact, it was Kovind's modest background that worked for him. "Shri Ram Nath Kovind, a farmer's son, comes from a humble background. He devoted his life to public service and worked for the poor and the marginalised," Prime Minister Narendra Modi tweeted about him on June 19. Incidentally, Kovind had known Modi since his days as the BJP's sangathan mantri (organisational secretary).
As the BJP's national spokesperson between 2010 and 2012, the Dalit leader addressed just three press conferences. None of them boasted of particularly impressive attendance.
Close