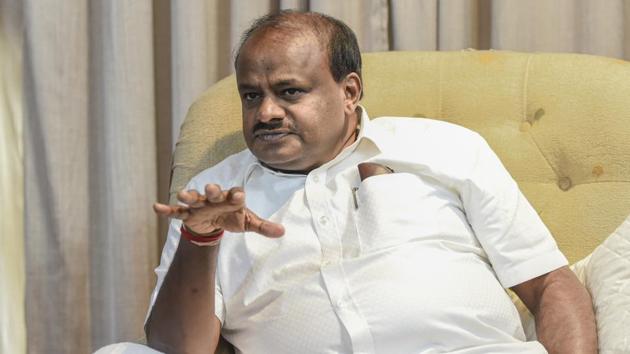 'Time to forgive each other': Karnataka CM plays peacemaker after minister angers Nirmala Sitharaman
Defence minister Nirmala Sitharaman sparred with Kodagu district in-charge minister Sa Ra Mahesh during her visit to the flood-hit district in Karnataka on August 24.
UPDATED ON AUG 27, 2018 08:36 AM IST
Karnataka chief minister HD Kumaraswamy turned peacemaker on Sunday after a spat between the state's tourism minister Sa Ra Mahesh and Union defence minister Nirmala Sitharaman during her visit on Friday to flood-hit Kodagu district, tweeting that it was "time to forgive each other".
Sitharaman's sparring with Mahesh at a function in Kodagu had also evoked a rebuttal by Karnataka's deputy chief minister G Parameshwara of the Congress.
In the letter tweeted from his official handle on Sunday, Kumaraswamy said Mahesh "has tirelessly worked to oversee the rescue and relief operations on the ground". While he did not mention the tiff, he said "it was unfortunate" the defence minister had to "go through certain inconveniences".
Kumaraswamy said he has spoken to Sitharaman on phone. "I believe this is the time for all of us to forget small differences and forgive each other and join hands for the rehabilitation of the flood affected people in Kodagu," he said.
Sitharaman, who is a Rajya Sabha MP from Karnataka, was visiting the state on Friday to survey the ground situation in Kodagu, for which the state has sought a Rs. 2000-crore relief package from the Centre.
On Friday, asked to wrap up a press conference by the state minister, Sitharaman had lashed out at Sa Ra Mahesh, saying: "I am following a minute-to-minute programme, minister. If officials are important, my parivaar (family) is also important.... Central minister follows the minister in-charge here. Unbelievable."
Karnataka's deputy chief minister G Parameshwara of the Congress also took on the central minister in defence of Mahesh.
"Madam @nsitharaman, our ministers have stayed back in Kodagu for weeks to oversee relief operations along with district administration. You should extend to them the same respect that they extend for the help from your end. It was disappointing to see you lash out at my colleague," Parameshwara had tweeted.
"State Governments derive their powers from our Constitution not from the Centre. The Constitution has distributed powers among the Centre and States to ensure an equitable partnership between both. We are not inferior to the Centre. We are partners @nsitharaman," he said in another tweet.
On Saturday, the Ministry of Defence said Mahesh's remarks against Sitharaman were in bad taste and did not merit a response.
"In spite of district administration finalising the program and RM following the same in its entirety it is unfortunate that the minister behaved the way he did. Subsequently, the personal remarks made against the RM were also in bad taste, which do not merit a response," the MoD said in a statement.
Close