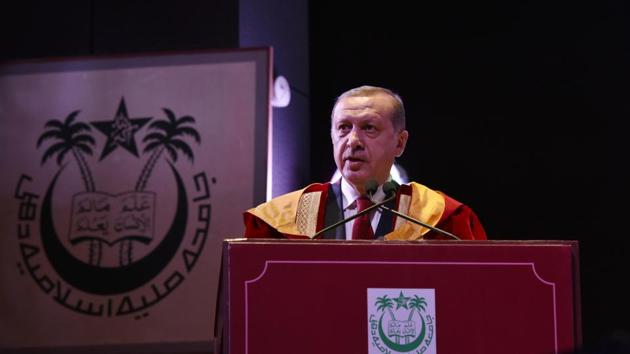 Kashmir a bilateral issue with Pakistan, India tells Turkish President Erdogan
India made it clear to visiting Turkish President Recep Tayyip Erdogan that the Kashmir issue must be settled bilaterally with Pakistan in line with the Simla Agreement and Lahore Declaration.
UPDATED ON MAY 01, 2017 08:43 PM IST
India informed visiting Turkish President Recep Tayyip Erdogan on Monday that a solution to the Kashmir issue can only be found through bilateral talks with Pakistan, tacitly rejecting his suggestion for multilateral dialogue on the matter.
The Kashmir issue has a "prominent dimension of cross-border terrorism" that needs to be stopped by "those who are perpetuating it", external affairs ministry spokesperson Gopal Baglay said without naming Pakistan.
Erdogan and Prime Minister Narendra Modi had a "detailed discussion" on terrorism and the two leaders agreed there could be no justification for terrorism wherever it is committed. They also urged all countries to disrupt terrorism networks and financing and "stop cross-border movements of terrorists", Baglay said.
The Turkish leader had ruffled feathers in Delhi by suggesting in an interview before his arrival in India that there should be a "multilateral dialogue" to find a solution to the Kashmir issue. The remarks were seen as a riposte to Cyprus President Nicos Anastasiades' call for India to help in the reunification of the part of his country that is controlled by Turkey.
"Our case essentially was Kashmir is an issue of terrorism that has dogged us for 40 years, cross-border terrorism and state-sponsored terror," Baglay told a news briefing.
"As far as the issue is concerned, we are ready to address any issue between India and Pakistan bilaterally through peaceful means as has been stipulated in the Simla Agreement and Lahore Declaration."
While presenting its views on terrorism and Kashmir to Erdogan, the Indian side made it clear that the whole of Jammu and Kashmir is an "integral part of India". Baglay said, "This position that the issue of Kashmir is essentially an issue of terrorism, we presented it very clearly."
India has always been prepared to discuss Kashmir and all other issues with Pakistan so that "peaceful solutions can be found bilaterally", he added.
The Turkish side raised its concerns about the Fethullah Terrorist Organisation (FETO) linked to the US-based preacher Muhammad Fethullah Gulen, who has been accused by Erdogan of instigating a failed coup last year. Turkey has been demanding that schools in India linked to Gulen should be shut down.
"As far as the Turkish concerns about FETO are concerned, they were mentioned to us. Any organisation in India, whether it is Indian or foreign, obviously has to work within the parameters of our laws and our norms and regulations," Baglay said.
The Turkish side also expressed supported for India's bid to join the Nuclear Suppliers Group.
Close