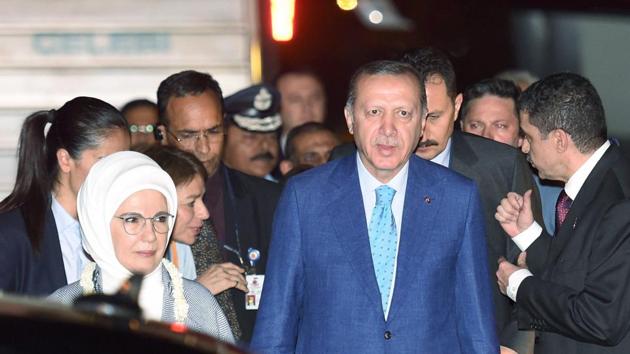 Turkey's President Erdogan calls for 'multilateral dialogue' to resolve Kashmir issue
The remarks, made during an interview with WION news channel, are expected to ruffle feathers in New Delhi, which has consistently said Kashmir is a bilateral issue that must be settled through talks with Pakistan.
UPDATED ON MAY 28, 2017 10:46 AM IST
Hours before arriving in India for an official visit, President Recep Tayyip Erdogan called for a "multilateral dialogue" with Turkey's involvement to resolve the Kashmir issue.
The remarks, made during an interview with WION news channel, are expected to ruffle feathers in New Delhi, which has consistently said Kashmir is a bilateral issue that must be settled through talks with Pakistan.
Expressing concern at the stand-off between India and Pakistan on Kashmir, Erdogan offered to get involved in settling the issue.
"We should not allow more casualties to occur and by strengthening multilateral dialogue, we can be involved, and through multilateral dialogue, I think we have to seek out ways to settle this question once and for all, which will benefit both countries," he said.
Some foreign policy mandarins in New Delhi believe Turkey's stance on Kashmir is closely aligned to Pakistan's position on the issue. Erdogan's remarks will strengthen this impression.
The remarks came against the backdrop of continuing unrest in Kashmir and the stalling of India-Pakistan diplomatic contacts since a string of terror attacks in 2016.
Responding to a question on whether the OIC's references to self-determination as a means to resolving differences over Kashmir were valid, and whether self-determination should be universally applied to other crises such as Tibet, Taiwan, Balochistan or even the Kurdish issue, he said the OIC represents a certain population.
"It (OIC) has its area of influence. It has economic and political strengths, it has a say in global matters and it can contribute to world peace. If something has been approved by all member-states, it should not be criticised or questioned. OIC members also have weight in the United Nations. Turkey supports India to become a permanent member of the UN Security Council."
Erdogan said he hopes to boost bilateral trade and investment during his visit to India, including joint investments in third countries. Reducing the trade deficit with India would also be a priority.
"I visited India in 2008 as the Prime Minister of Turkey. Since then, India has emerged even stronger: it is respected by all. For its part, Turkey's voice is easily heard all over the world. My visit will deepen Turkey-India relations," he said.
Bilateral trade is currently about $6.5 billion, up from about $4 billion in 2010, with the balance in India's favour.
"I want a win-win situation and a favourable trade balance. We opened consulates at Mumbai in 2011 and Hyderabad in 2013, so it confirms the importance Turkey attaches to India. Turkey can take greater steps to export to India. A 150-strong business delegation will accompany me to India. Maybe Turkish and Indian companies can invest in third countries," Erdogan said.
On the issue of India's bid to join the Nuclear Suppliers Group, Erdogan said he favours both India and Pakistan being admitted.
"Both India and Pakistan have the right to aspire for NSG membership. I think India should not assume such an attitude. If Turkey was fair enough to support Pakistan, it was fair enough to support India. We are very objective and positive to the NSG process," he said.
Erdogan also accused the West of being "aggressive" towards Muslims. "The Hijab is necessitated by faith i.e. Islam. The West has been aggressive towards Muslims. You can see it in the burning down of mosques, vandalizing the walls of a mosque with the Swastika sign, banning Hijab, etc," he said.
"We are not against any faith. We protect synagogues or churches from possible terror attacks but the West needs to reciprocate but it is not doing so."
Asked about the way forward in Syria, where Turkish troops are engaged in operations against the Islamic State, Erdogan said the US and its allies Saudi Arabia and Qatar must join forces with Russia, Iran, and Turkey to eradicate the terror group.
"The Islamic State is a remotely located terrorist organization. Of course, we are fighting the Islamic State but the coalition forces are not fighting the Islamic State as committedly (sic) as us," he said.
Close