'Human shield' row: Claims, counter-claims by army Major, Kashmiri tied to jeep
Updated on May 27, 2017 09:32 AM IST
An HT investigation found that locals in 17 villages of central Kashmir refuted the army's claim that Major Gogoi faced massive stone pelting.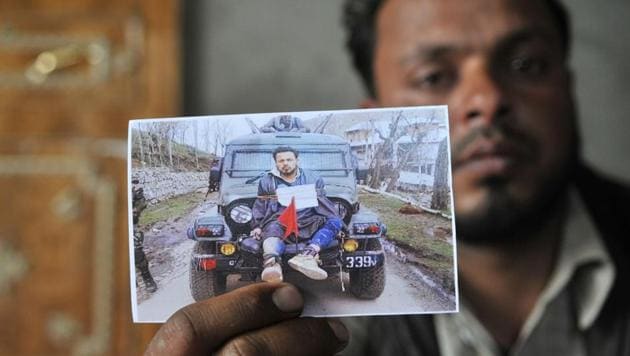 Hindustan Times, Srinagar |
Toufiq Rashid and Abhishek Saha
Army Major Leetul Gogoi's act of tying a Kashmiri man to a jeep on April 9 as a 'human shield' in the face of what he claimed was heavy stone-pelting by an angry mob has stirred a huge controversy.
Gogoi, since commended by the army chief for his contribution to counter-insurgency operations, insists his decision taken at a 'fraction of a moment' helped rescue besieged officials and save lives.
Farooq Dar, the man used as the human shield, has accused Gogoi of lying. Eye-witness accounts of the events of that day when polling for the Srinagar parliamentary byelection was underway also differ.
HT looks at some of the divergent claims:
• SITUATION IN UTLIGAM WHERE DAR WAS TIED TO THE JEEP
Gogoi: Claims he was responding to a distress call from a polling station with besieged officials and security personnel. "When we reached the area, we saw a large crowd including women and children, they were throwing stones, some people were even throwing boulders at us from their roof tops," he said.
Dar: Says situation was relatively calm when he was caught while passing by.
Villagers: Reported intermittent stone pelting but denies the presence of a large crowd.
• HOW DAR WAS CAUGHT
Gogoi: Claims Dar was instigating the mob to pelt stones.
Dar: Says after having cast his vote in his village of Chil, he was on his way on a motorbike to a relative's house to condole a death in the family.
Villagers: Say Dar and a friend were passing by on a bike. "While his friend threw the bike and managed to flee, army caught hold of Dar," they said.
• TYING DAR TO JEEP HELPED SAVE LIVES?
Gogoi: Says he saved the lives of 12 people, including four polling officials and seven Indo-Tibetan Border Police (ITBP) personnel. Says tying Dar to the jeep created a "window to move out of the area safely".
Dar: Says he was innocent. He in fact had voted already at polling booth number 90 (his serial number on the voting roll was 612).
Villagers: Say Dar was beaten up before being tied to the jeep. "After tying him up, they dared us to pelt stones at them," a woman said.
• NUMBER OF PROTESTERS
Gogoi: Says 1,200 people were protesting at Utligam, forcing them to use a human shield.
Dar: Says he only saw a few people protesting when he was seized.
Villagers: The village has a population of around 900. They also say the spot from where Dar was seized cannot accommodate 1,200 people.
• WAS DAR AN INSTIGATOR?
Gogoi: Says Dar was an "instigator and could have been a ring leader'' of stone-pelters. He, however, did not say he saw Dar pelting stones.
Dar: Says the Major "is lying to save himself." "Please check my name in the list of voters. If I voted for democracy, why would I stop others from voting and pelt stones''.
Villagers: Say they asked Dar to flee, but he refused since he believed no harm will be done to him as he had voted.
• RIVING THROUGH 17 VILLAGES FOR FIVE HOURS WITH HUMAN SHIELD
Gogoi: Has been silent on this.
Dar: Insists he was tied up at around 11am in the morning and taken off the jeep only around 4 pm.
Villagers: Eye-witnesses say they saw the jeep being driven around.
Personalise your news feed. Follow trending topics