Kashmir ki Kali turned eyesore to draw attention to pellet injuries in Valley
Hindustan Times |
, New Delhi
Manasa Mohan
Aug 09, 2016 09:38 PM IST
To draw larger attention to the ongoing violence in Kashmir, cartoonist Mir Suhail altered Sharmila Tagore's face in the movie poster of Kashmir ki Kali, adding an eye -patch and pellet injuries to her face.
In a bid to draw attention to the violence in Kashmir and the severe damage pellets have been causing, a Pakistani-based group caught attention a fortnight ago with their digitally altered posters of famous people.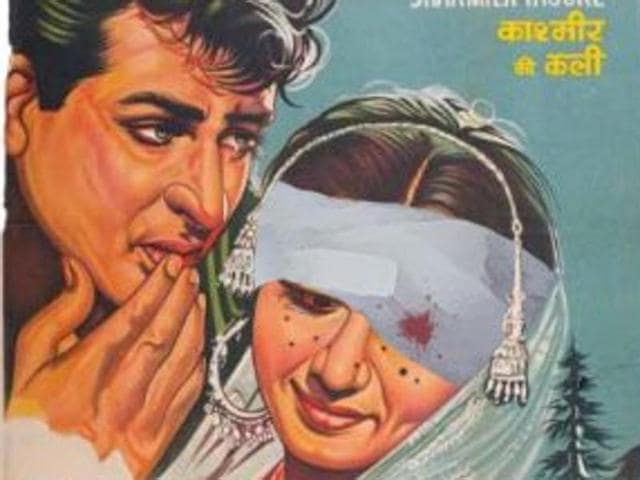 Read | If they were the victims: Pak group uses Modi, SRK pics for Kashmir campaign
But cartoonist Mir Suhail's rendition of the concept tries to hit closer to home.
Basing his depiction on the poster of the 60s hit Bollywood movie Kashmir ki Kali, Suhail added an eye-patch to Sharmila Tagore, besides pockmarking her face with pellets, while Shammi Kapoor looks on.
"My attempt to recreate the poster, where Sharmila Tagore is hit in one eye by pellets, and Shammi Kapoor has an expression of disgust, is to highlight the pain inflicted on this kali (girl). There is no romance left about the place or the people," Suhail said to the Hindu.
Fatal injuries, loss of life and blindness due to pellet shots have rocked Kashmir Valley for a month now in the aftermath of the killing of Hizbul Mujahideen commander, Burhan Wani, on July 8.
Locals are caught between a state-imposed curfew, a shutdown called by separatists and protesters attempting to defy authority.
Read | CRPF fired more than 2000 pellet cartridges in Kashmir after Wani's death
Security forces have been using pellet guns, deemed non-lethal, in dealing with protesters and enforcing order in the Valley. However, these small projectiles have caused around 5 deaths and blinded dozens others, most in the age bracket of 15 to 35 years. Overall, close to 60 people have died in the violence.
While civilians and activists have decried the violence, and even the opposition questioned the Centre's use of the weapon, pellet guns remain in use. The government, though, has called for restraint in its discharge.
Read | Despite Rajnath's plea, pellet firing continues in J-K
Kashmir ki Kali became an iconic film that explored a serene and beautiful Kashmiri landscape. Suhail's choice of the poster, as he pointed out, is to show how violence has marred the Valley.
Besides, the movie poster, Suhail also posted a series on Twitter, redoing popular paintings with eye-patches and pellet injuries, including Leonardo da Vinci's painting, the Mona Lisa.
Other artists have also created similar artworks – sketches and illustrations – that highlight the issue.