Highlights: Hizb 'commander' Sabzar Bhat killed in encounter, Hurriyat calls for shutdown on Sunday
Updated on May 27, 2017 09:10 PM IST
Eight militants were killed in separate encounters in Kashmir's Rampur and Tral.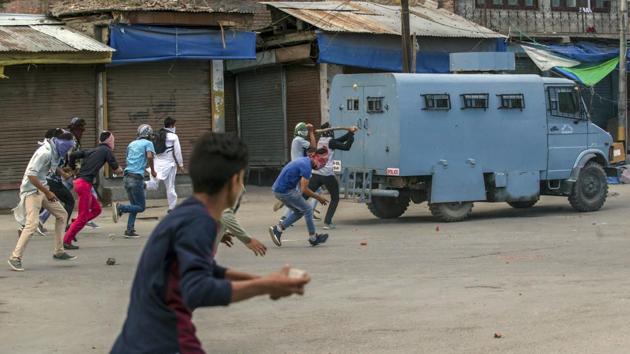 Sabzar Ahmad Bhat, who reportedly succeeded Burhan Wani as the Hizbul Mujahideen commander, was killed on Saturday with another militant in an encounter with security forces in Tral area of Kashmir's Pulwama district.
Six suspected militants were also killed in Kashmir's Rampur along the Line of Control on Saturday, the army said.
One civilian was also killed and several others were injured in Kashmir on Saturday after the killing of Bhat sparked protests across the valley, officials said.
Burhan Wani was killed on July 8 last year in south Kashmir. His killing sparked violent protests in the Kashmir Valley for months.
Live updates:
6:42pm: Joint Hurriyat leadership Syed Ali Geelani, Mirwaiz Umar Farooq and Muhamad Yaseen Malik calls for complete shutdown in the Valley on Sunday against the killing of Hizb Commander Sabzar Ahmad during an encounter in Tral.
6:30pm: Infiltration bid at LoC foiled and all six militants were killed last evening: Army spokesperson at a press conference.
6: 00 pm: A spontaneous shutdown was observed in most parts of the Valley as violence erupted at more than 50 places in the wake of killing of Bhat, a police official said.
4:35pm: One person killed in Tral where protesters clashed with security forces after the killing of militant Sabzar Bhat, says a senior medical official.
2:30pm: Jammu and Kashmir Police (JKP) tweets, "Major success for JKP and security forces. Two terrorists including Sabzar killed in Tral encounter."
Meanwhile, security forces launch a major operation to find the remaining terrorist from his hideout in Tral.
2:10pm:
2pm: Mobile internet services, including 2G, 3G and 4G, have been suspended in Kashmir after violent protests. It has not even been 24 hours since services were restored in the Valley: ANI
1:50pm: Shut down in many parts of Kashmir after violent protests in the wake of killing of Hizbul Mujahideen commander Sabzar Ahmad Bhat.
1pm: J-K government could suspend mobile internet services in Kashmir fearing law and order problems, says ANI. Services had been restored in the Valley just a day before.
12:30pm: Bhat's death sparks stone-pelting protests at several places in Kashmir, reports PTI.