Youth rushing to encounter sites are committing suicide, says J-K police chief
Youths who storm the encounter sites in the Valley to hurl stones at security personnel are committing suicide, Jammu and Kashmir Police on Thursday said and appealed to them to refrain from such activity.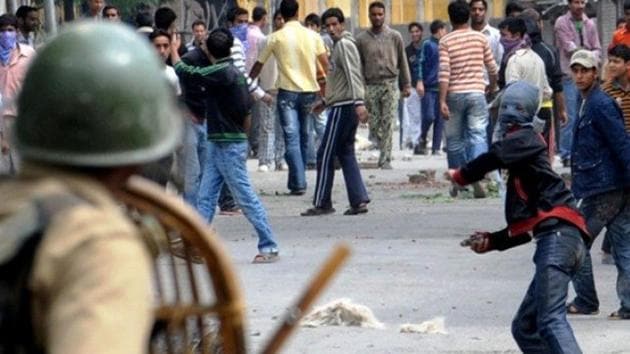 Updated on May 05, 2017 07:41 PM IST
Young men in Kashmir were committing suicide by rushing to encounter sites and throwing stones at security forces, Jammu and Kashmir's police chief said on Thursday, commending his force for minimising civilian casualties despite "great provocation".
The comments came two days after three civilians were killed during a gunfight in central Kashmir's Budgam district when security forces battling militants opened fire on a group of stone-pelting protesters. The crowd was allegedly trying to help a militant escape but the man was killed.
"In the encounter even security forces and police take cover of a bulletproof vehicle or a house. Youths coming to the encounter sites are committing suicide," director general of police SP Vaid told reporters in Srinagar.
Protesters rushing to gun-battle sites and attacking security forces is a growing concern in the border state.
Vaid appealed to the youngsters not to remain indoors and not be misled.
"A bullet does not know whom it will hit. My appeal to all the young boys is that they should remain in their homes. The youth must understand that they are being used by people for their short-term political gains," he said.
"In spite of great provocation, we have been able to minimise collateral damage and civilian casualties."
This year, several civilian deaths have been reported during gun battles between militants and security forces.
Army chief Bipin Rawat had in February warned of tough action against those attacking security forces during anti-militancy operations.
The state government has declared three-kilometre area around an encounter site as a no-go zone in Srinagar, Budgam and Shopian districts.
Enemies of the country were misusing social media to instigate the youths, the DGP said.
Around 300 WhatsApp groups, with more than 250 members each, and other social networking websites such as Facebook get activated the moment a gunfight breaks out, Vaid said.
Young boys are told to reach the site and throw stones to help terrorists escape.
Police were monitoring the accounts, some of which were traced to across the border, the DGP said.
A 15-year-old boy Amir Nazir was killed on March 10 when he sneaked close to a spot where security forces and militants were exchanging fire in Pulwama. Police said Nazir was part of a mob pelting stones when a bullet hit him in the neck.
The Muslim-majority Valley has been in turmoil for almost a year after violent clashes broke out over the killing of a militant last July.
The violence left more than 90 people dead and thousands injured – many of them blinded by pellet guns.
(With PTI inputs)
Close Story