'Kauravas of 21st century wear half pants': Rahul Gandhi's dig at RSS. Watch
Jan 09, 2023 08:31 PM IST
The Bharat Jodo Yatra is currently in Haryana.
Rahul Gandhi on Monday yet again said that the Bharat Jodo Yatra has been received warmly in all the states it has covered so far, dismissing criticism, as he took a "Kaurava" jibe at the Rashtriya Swayamsevak Sangh - the BJP's ideological parent. After visiting Kurukshetra, where the battle between the good and the evil in the Hindu epic of Mahabharata was fought, Rahul Gandhi seemed to liken his party to the "Pandavas" who fought for justice against the Kauravas. "Pandavas were Tapasvi (ascetics). They also ran 'Mohabbat ki dukaan' (a shop of love)," the Congress leader said, in reference to his party's 'fight against hatred' tagline linked to the Bharat Jodo Yatra. The grand old party has repeatedly insisted that its pan-India march was launched against the misrule of the BJP.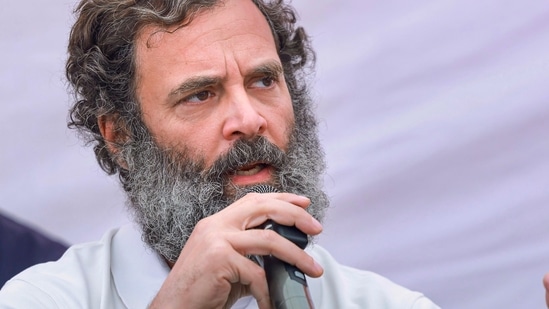 "The Kauravas of the 21st century wear half pants. They hold lathis (sticks) in their hands and take part in shakhas," Rahul Gandhi said at the briefing, taking a potshot at the RSS. "Along with them stand the richest people of the country. Please understand who, what and why linked to demonetisation, and poorly-implemented GST (Goods and Services Tax). The policies may have been cleared by Prime Minister Narendra Modi but the billionaires were behind the move," he further said, targeting the Prime Minister.
He also took a potshot at those targeting him for wearing a t-shirt amid the winter chill of north India. Meanwhile, his "Tapasvi" remark on Sunday had pitted the Congress vs BJP as Congress leader Supriya Shrinate accused the rival party's Amit Malviya of tweeting a 'fake clip' of Gandhi, misquoting him.
"The BJP and the RSS say there should not be respect of 'tapasya' and those who do their 'pooja' (worship), only they should be respected. Did demonetisation respect the 'tapasya' of the poor? Certainly not. It was an attack on 'tapasya…" Gandhi had said Sunday.
On Monday, he yet again repeated the attack: "RSS people never chant 'Har Har Mahadev' because Lord Shiva was a 'Tapasavi' and these people are attacking India's 'Tapasaya'. They have removed Goddess Sita from 'Jai Siya Ram'. These people are working against India's culture."
(With inputs from ANI)