Kerala extends Covid lockdown by 10 days, sets the benchmark to ease curbs
Published on May 29, 2021 09:47 PM IST
Kerala chief minister Pinarayi Vijayan, who extended the Covid lockdown on Saturday, said some vaccine makers have indicated interest in setting up units in Kerala and the government will do everything possible to help them.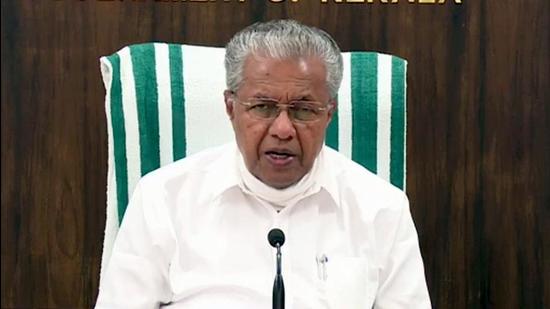 Thiruvananthapuram : Kerala chief minister Pinarayi Vijayan on Saturday extended the Covid-induced lockdown in the state by another 10 days, declaring that he would start rolling back the restrictions only after the test positivity rate (TPR, the proportion of people who test positive for the infection) drops below 15% for three days.
Kerala has been under a lockdown for three weeks. Vijayan, like some other chief ministers, had been reluctant to order the lockdown and resisted implementing this recommendation due to concern that the poor would suffer the most. But he eventually ordered the lockdown from May 7 to control the surge in cases.
On Saturday, he said the number of active cases dropped significantly during the past three weeks. "We need a lockdown to bring it down further," he said.
Kerala reported 23,513 new Covid cases, bringing the active caseload to 2,33,034. With 198 more deaths, the disease has killed 8,445 people in the state.
Kerala has a TPR of 16.59% for the 1,41,795 samples tested in the state.
"We will lift the lockdown only after TPR slips below 15 per cent for three consecutive days… The active caseload will have to come down drastically," he said, pointing out that at least 60% ICU beds in the state are occupied by people being treated for the coronavirus disease.
Pinarayi Vijayan said while the lockdown will continue till June 9, the government decided to extend some concessions. Jewellery shops, cloth marts and book stalls will be allowed to open for three days a week and industrial and small-scale units will be allowed to function with 50% capacity. Banks will also function for three days in a day.
Several other states are expected to announce their decision to continue the lockdown or start easing the norms over the next few days as the daily new Covid cases reported nationwide on Saturday were less than 2,00,000.
Around 80% of India has been under lockdown in May due to the second Covid wave.
On Saturday, Karnataka Chief Minister B S Yediyurappa said no decision has been taken to extend the state-wide lockdown. He added that if people follow the regulations, there will be no need to extend the lockdown. All districts of Karnataka are currently under a lockdown till 6 am on June 7.
"The lockdown will be in effect till June 7… strict restrictions will be in place till then…If people cooperate, the question of extending the lockdown may not arise but people have to cooperate, that is all," he said. Karnataka recorded 20628 Covid-19 cases on Saturday, with 4,889 cases in Bengaluru. The total number of active cases in Karnataka stood at 3,50,066, while the active cases in Bengaluru were 1,64,182.
Himachal Pradesh government on Saturday notified that shops would be allowed to open for two hours more every day and increase attendance in offices to 30% while deciding to keep educational institutions and public transport closed.
The Meghalaya government on Friday extended the total lockdown in the East Khasi Hills district by another week, Deputy Chief Minister Prestone Tynsong said.
Personalise your news feed. Follow trending topics