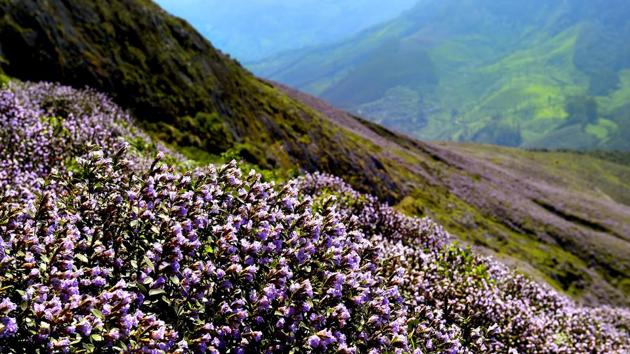 Kerala floods may nip kurinji blooming in the bud, forest dept denies any animal casualty
Heavy rains have doused the spirits of 'neela kurinji' lovers and they fear large tracts of the plants could have been destroyed in the surging flood waters in Kerala.
UPDATED ON AUG 11, 2018 06:31 PM IST
With Kerala's flood-ravaged Idukki having five wildlife parks, nature-lovers are concerned about the safety of animals but forest officials denied reports of any wildlife casualty in the hilly district. 'Neela kurinji' lovers are however gloomy, for the catastrophe struck at a time when the rare spectacle of the flower's blooming was about to unfold.
"No loss of wildlife has been reported so far. Animals are acquainted with such conditions and they do have natural protection to deal with such situations. But we can say that these situations put extra pressure on them," said state's principal conservator of forests PK Kesavan.
Saying many landslides happen in the periphery, not in deep forests, he also termed as "misleading" a video doing rounds on social media depicting the plight of a deer herd facing surging flood waters in Wayanad.
"Black bucks were shown in the video. But in Kerala we don't have that species of deer. It is a misleading video intended to create a scare," said Kesavan, adding personnel are keeping a strict vigil in forests.
Idukki, nestled in southern part of Western Ghat mountain ranges, hosts the Periyar Tiger Reserve - which has 35 tigers as per the last census, the Shola National Park, the Chinnar Wildlife Sanctuary, the Kurinjimala Sanctuary and Eravikulam National Park, which is home to near-extinct Nilgiri tahr (ibex) as well as rare bird species like Malabar grey hornbill, Nilgiri pipit and Nilgiri wood pigeon.
Kurinji lovers upset
Heavy rains have doused the spirits of 'neela kurinji' lovers and they fear large tracts of the plants could have been destroyed in the surging flood waters. Tourism officials who expected a windfall are also concerned.
The floods struck at a time when the neela kurinji (strobilanthes kunthiana) were set to bloom with clock-like precision after 12 years. When it bloomed last in 2006, the state tourism department claimed at least four lakh tourists swarmed the hill destination of Munnar, considered the best spot to watch the spectacle, and this time, it was expecting at least double that number.
"Wet conditions are a threat to kurinji because it needs good sun. Flash floods have affected plants in some areas. Still we expect widespread blooming by next month," said G Rajkumar, an activist who has been working for the flower's conservation for the past 40 years.
He attributed the present tragedy to human incursions and unnatural growth plans. "It is a lesson for all. Landslips and flash floods happened in areas that witnessed widespread human incursions. River should be allowed to run their natural course and it is time to rethink about management of dams," he said.
For local people, kurinji is symbol of plenty and exuberance and for visitors, it is a visual feast. The flowers find abundant mention in both Tamil and Malayalam ballads and are also a favourite subject for modern writers. Tribal people often calculate their age with its blooming season.
Considering the ecological sensitivity of the area, the then VS Achuthanandan-led state government had declared a kurinji national park spread over an area of 32 sq km. His government also carried out a massive demolition drive against land encroachment in Munnar and surrounding areas but later this lost steam following stiff opposition from many, including his own party members.
Later governments scaled the area of the park, citing human settlements while land sharks exploited the situation to the hilt. The result is that the misty getaway of Munnar has turned into a concrete jungle and landslides are common at many places.
Close