Sushma warns Pakistan of impact on ties after Kulbhushan Jadhav death sentence
Updated on Apr 18, 2017 07:20 PM IST
Pakistan said a military court has sentenced to death Indian national Kulbhushan Jadhav for allegedly spying and stoking violence in Balochistan, drawing an angry response from New Delhi which said it will be a "premeditated murder" if carried out.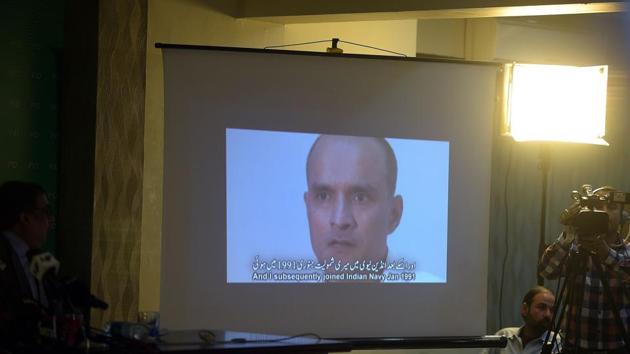 New Delhi, Hindustan Times |
Jayanth Jacob and Saubhadra Chatterji
India warned Pakistan on Tuesday of serious consequences for their ties if it executed a retired naval officer convicted of spying, and said it will do all it can to save the "Hindustan ka beta".
As anger grew in India over the Pakistani military court's order, Islamabad's defence minister Khawaja Asif said Kulbhushan Jadhav had the right to appeal within 60 days. Asif, however, defended the verdict, and said "due process of law" had been followed.
Pakistani Prime Minister Nawaz Sharif too took an aggressive stand, saying though his country was peace-loving, "we cannot remain oblivious to defending our sovereignty and protecting our independence".
Jadhav, 46, was convicted on Monday for alleged spying, espionage and waging war against the state of Pakistan. He was arrested from Balochistan in March, 2016. India says the charges are concocted.
"We have no choice but to regard the sentence, if carried out, as an act of premeditated murder. Our position on the matter is very clear. There is no evidence of wrongdoing by Kulbhushan Jadhav," foreign minister Sushma Swaraj told Rajya Sabha.
"I would caution the Pakistan government to consider the consequences for our bilateral relationship if they proceed on this matter."
Parliament is likely to adopt a resolution condemning Pakistan on Wednesday.
But although the treasury bench and opposition parties came together in a rare show of solidarity for Jadhav, the Congress took a dig at the government asking why it can't get access to Yadav.
"Without an invitation, you can attend a marriage, but you cannot meet him or talk to him on the issue," Congress' Lok Sabha leader Mallikarjun Kharge said, referring to Prime Minister Narendra Modi's visit to Pakistan on the day of marriage of Nawaz Sharif's daughter.
Later, Swaraj told the Rajya Sabha the Indian high commission in Pakistan was told three hours after the verdict that New Delhi could be given conditional consular access to Jadhav provided New Delhi accepted Pakistan's position on the case. She said foreign secretary S Jaishankar has already conveyed India's position to the Pakistan high commissioner.
The minister also said she was in touch with Jadhav's parents.
"We are extending our fullest support to them in this difficult situation. A strong sense of solidarity expressed by the House will give them more courage at this time," she said.
"Kulbhushan Jadhav is not just the son of his parents but he is the son of entire India. And to save this Hindustan ka beta, we will not only appeal in the Supreme Court or appoint a good lawyer, but will also talk to the President, if needed.
"We will try to save him in whichever way possible."
In Pakistan, defence minister Asif refuted India's assertion that the sentence was premeditated murder. He told the upper house of Parliament that the law of the land was applied and the trial of the alleged spy went on for three months.
"We have done absolutely nothing that's against the rules and regulations, but there is premeditated murder going on even today in Kashmir," Asif told the senators.
The Pakistani media largely welcomed the death sentence against Jadhav.
(With inputs from Kumar Uttam)
Close Story
Personalise your news feed. Follow trending topics