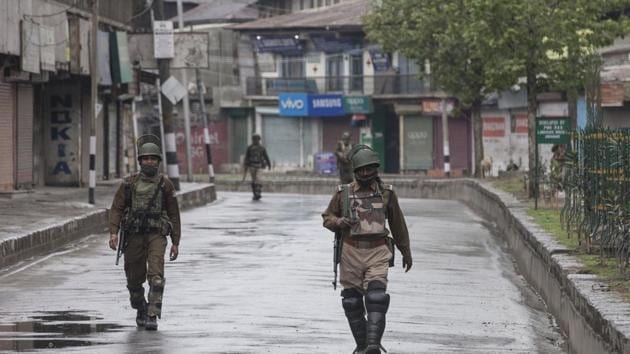 Lashkar-e-Taiba's hand suspected in abduction, murder of Kashmiri man
The victim's wife suffered a bullet injury and his mother-in-law was stabbed, police say.
UPDATED ON APR 03, 2018 09:04 PM IST
A 33-year-old man was found murdered hours after suspected Lashkar-e-Taiba (LeT) militants attacked his family members and abducted him from his father-in-law's home in north Kashmir's Bandipora district around 10pm on Monday, police said.
The victim's wife suffered a bullet injury and his mother-in-law was stabbed, police added.
Police identified the deceased as Muntazir Ahmad Parrey, a private car driver. His body was found on the outskirts of Hajin on Tuesday.
"The body has three bullet wounds and multiple stab wounds," said Bandipora superintendent of police Sheikh Zulfikar Azad. "His wife and mother-in-law are admitted to hospital in Srinagar and their condition is stated to be stable," Azad added.
Police are trying to ascertain the motive for the killing. "There is no apparent reason. He was a common man living his life. He had no affiliation with anybody," said Azad.
A police spokesperson said local militant Mohammad Saleem Parrey is suspected of having played a role in the killing. "Five foreign terrorists affiliated with the LeT — Abu Muslim, Hubaib, Khalid, Abu Hamza and Haider — are also involved in the killing," the spokesperson added.
The LeT had not issued any statement related to the attack at the time of this report.
This is the second time the family is enduring a gruesome death. Muntazir's father-in-law, Farooq Ah Parrey, lost one of his sons last year in a suspected militant attack. His son's decapitated body was fished out from Jhelum river. While the police blamed militants for the killing, the LeT accused security forces of murder.
Close