Whisper 'Jehangir', 'Ghafoor' or 'Nepal' to get your choice of alcohol in Bihar
Updated on Jun 07, 2017 03:09 PM IST
The right code words are all you need to know in order to access your favourite brand of Indian Made Foreign Liquor or any other alcoholic drink in Bihar, a 'dry' state since April 5 last year.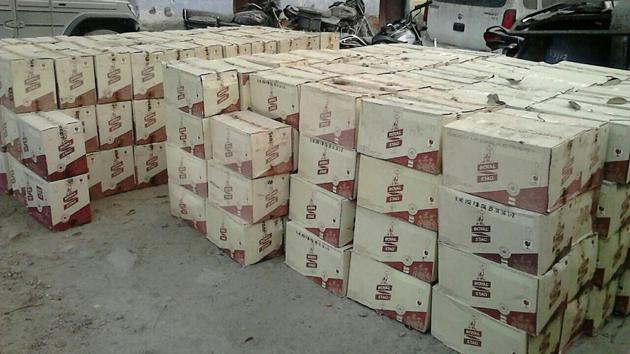 Hindustan Times, Ara/Araria/Bhabua |
Prashant Ranjan /Aditya Nath Jha /Prasun K Mishra
A year after prohibition was enforced in Bihar, illegal liquor traders have made it easy for Bacchus lovers to search for their favourite booze by using a new liquor lingo.
So don't be surprised if you are asked to savour Jehangir, Ghafoor, chota and bada syrup or even Nepal. These are some of the code words for liquor being used by traders to carry out their clandestine business.
Superintendent of police (SP) of Bhojpur district in south central Bihar, Kshatranil Singh confirmed that persons involved in the business of purveying illegal alcoholic drinks were using code words to convey information related to the proscribed item.
"The matter came to light after the arrest of a soft drink seller, who had been allegedly supplying alcoholic beverages in Ara town, about 55 km west of state capital, Patna, after receiving orders for such items in code words ," he said.
"Demand for delivery of one litre milk at home will mean that the customer has ordered for a large bottle of liquor," said another police officer, on the condition of anonymity.
"Liquor is easily available. Only, you need to know the right code word to procure it," said a man who had managed to lay his hands on Jehangir, the name for India made foreign liquor (IMFL), in Araria district, 320 km north-east of Patna.
"Apart from Jehangir, one can also have easy access to Fakruddin, code word for the banned codeine- based Corex cough syrup, which is widely used as intoxicant, at Jokihat, some 20 km from Araria," said the man, who did not wish to be identified.
"That's not the end. Countrymade liquor is available as 'Ghafoor' and ganja is sold as 'Bechara' at Jokihat," he added.
Moving north from Jokihat, 'Nepal' is the code word for booze at Jogbani and Forbesganj, two towns in the district sharing border with the Himalayan nation. "You just need to convince illegal liquor traders that you wanted to visit Nepal and you will be handed over a bottle of IMFL," locals at Forbesganj, 293 km east of Patna, said, adding that "cold drink" was another code.
However, Araria police don't have any information in this regard. Jokihat police station SHO MA Haidri, however, said he had no information of illegal liquor traders using code words. "We will definitely act if such complaints are made," he added.
In Rohtas and Kaimur districts of western Bihar, bordering Uttar Pradesh, liquor of all brands are just a phone call away. "Dial the number, and it will be delivered at your doorstep in maximum 20 minutes. All you need is to get your phone numbers registered with the suppliers use the correct code word," said a man at Bhabua, 197 km south west of Patna, in Kaimur district.
"When you ask for Fruity', you will get IMFL in tetrapacks. The suppliers will deliver a small bottle if you demand chota syrup and a large bottle if you ask for bada syrup," he said.
Bihar became a dry state on April 5, 2016. Under the state's prohibition law, consuming, keeping or dealing in liquor is an offence, which attracts imprisonment up to 10 years.
Personalise your news feed. Follow trending topics