As it happened: Modi slams Cong, justifies note ban, envisions cashless future in RS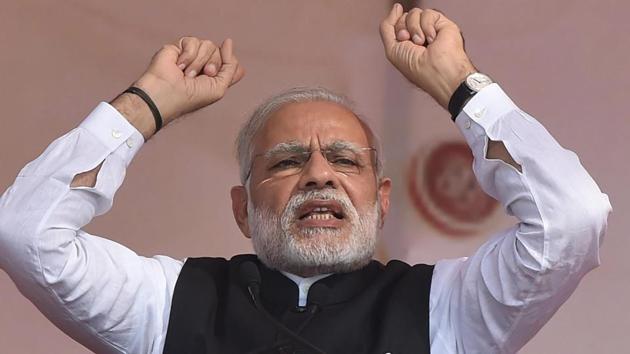 Updated on Feb 08, 2017 07:02 PM IST
Hindustan Times, New Delhi |
HT Correspondent
Speaking in the Rajya Sabha, Prime Minister Narendra Modi said on Wednesday that his government's demonetisation exercise wasn't targeted at any particular group nor was it a political fight. It was a move to strengthen the faith of the innocent and honest in the country's system, he said.
Recalling high-value banknotes was a right decision made at the right time as the economy was in good health and there was a brief lull in business after the peak festive season, Modi said in the Lok Sabha a day ago.
More updates from the House.
6:57pm: Rajya Sabha Chairman Hamid Ansari refuses to allow more time beyond the debate
6:55pm: CPM general secretary Sitaram Yechury asks for the floor to rebuttal Modi's comments
6:51pm: "We must look at a different kind of integration, where people from different states know a little about other states, their culture, their language, etc. Such integration will further strengthen the country," Modi says as he finishes his address
6:50pm: Smaller countries like Singapore are managing cleaner surroundings. Why can't we? We should also have such a vision
6:49pm: Modi says we need to change out mindset. The youth need to take the initiative
6:45pm: We allowed 100% foreign direct investment to aide food processing industry
6:43pm: In 500 mandis, farmers have received mobile phones to help them
6:41pm: A small change can bring a big change, says Modi
6:40pm: If we need to protect the farmer, we need to focus on their income. We need to look at insuring them despite crop failure due to various reasons, including the weather
6:37pm: The Swacch Bharat Abhiyan is made fun of. But if Mahatma Gandhi was here, would the same people speak this way?
6:35pm: Modi: Till when will we refuse to accept loss? Until them we can't move forward
6:34pm: Modi: The Pradhan Mantri Awas Yojana is aimed at reaching 5 crore families
6:32pm: Now you can register a company in 24 hours. You don't have to wait months for a passport, says Modi
6:30pm: Our government focused on good governance more than anybody else, Modi says taking a dig at the Congress' UPA years
6:27pm: Modi: Attacks on the party I belong to, our government, on me are understandable but why was the RBI dragged into this. It was not required
6:26pm: "There was so much said about what is wrong with the nation...perhaps they (Congress) were giving a report card of their own record," says Modi
6:25pm: We need to promote digital payments, says Modi
6:22pm: Modi: Not a single penny was spent on developing the new BHIM app
6:21pm: Just because it is inconvenient, doesn't mean we continue in the same way. There is no reason for India to be left behind as the world moves forward
6:20pm: Cashless means taking the country step-by-step, slowly in the direction of a clean economy, say Modi
6:18pm: Modi: We want to take the country forward. We are talking digital (transformation)
6:16pm: Modi: During Indira Gandhi's time, could such as a step (demonetisation) be taken? This question was raised in 1981.
6:15pm: Modi: There is a horizontal divide -- on one side are the people of India and the government, and on the other side are a group of political leaders.
6:14pm: Modi: For almost 35 years, Manmohan Singh ji had a lot of influence on country's economic policies.
6:12pm: Modi attacks former prime minister Manmohan Singh, says he knows how to bathe with a raincoat since he isn't tainted
6:11pm: Opposition must have the courage to listen other than just speaking, Modi says
6:10pm: PM Modi starts speaking again
6:08pm: Opposition members protest the Modi's comments. Stage a walkout
6:06pm: Disruption in Rajya Sabha as opposition create a ruckus in response to PM Modi's speech
6pm: Modi on demonetisation: World's economists don't know parameters to assess it. What India did will be a case study for economists worldwide.
5:57pm:
5:53pm: Modi: You (Anand Sharma) are showing so much zeal, why were you quiet till now? Why did you not sue Madhav Godbole?:
5:52pm: Modi: Former bureaucrat Madhav Godbole in a book wrote...in 1971 Indira Gandhi was advised by then FM to demonetise, but she rejected idea.
5:51pm: Modi: Corruption has adversely impacted the aspirations of the poor and the middle class
5:50pm: Modi: Honest men will not feel empowered till steps taken against the corrupt are made stronger.
5:48pm: Modi: If there is anyone who has been affected, it's the poor. They are the worst affected.
5:46pm: Modi: The fight against corruption and black money is not a political fight. It is not to single out any particular party.
5:45pm: Modi: Several members have shared their views and there was considerable discussion on demonetisation
Close Story