Lok Sabha passes law to deal with human trafficking, sex workers not to be harassed
Jul 26, 2018 10:34 PM IST
The Lok Sabha on Thursday passed a comprehensive law to deal with human trafficking, with Union minister Maneka Gandhi stating that the legislation does not intend to harass sex workers.
The BJP-led NDA government on Thursday used its superior numerical strength in the Lok Sabha to pass a proposed anti-trafficking law that some of the opposition parties including the Congress, CPM and BJD wanted referred to the standing committee.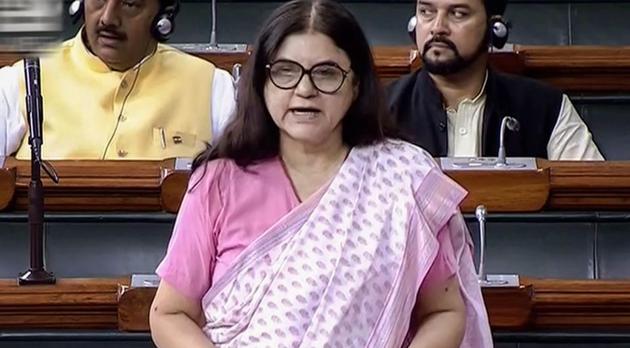 Assuring the House that she would tackle the "lacunae" pointed out by the members in the four-hour discussion on the draft law, the Women and Child Development Minister Maneka Gandhi said the bill is intended to go after human traffickers and not the victims — a concern raised by Congress MP Shashi Tharoor, who was the first speaker from the opposition.
Members cutting across party lines supported the bill but wanted it referred to the standing committee. Gandhi said "the bill is long overdue... The law is victim-centric and conviction rate will hopefully improve after the Bill is enacted".
The Trafficking of Persons (Prevention, Protection and Rehabilitation) Bill, 2018, provides for confidentiality of victims, witnesses and complainants, time-bound trials and repatriation of the victims.
"This is a bill that has a compassionate view of people who have been victims of sex racket," she added. The legislation proposes to create institutional mechanisms at the district, state and central levels. It calls for punishment ranging from 10 years of rigorous imprisonment and a fine not less than ₹1 lakh. With provisions for prevention, rescue and rehabilitation, the proposed law also covers aggravated forms of trafficking such as forced labour, begging and marriage. For the first time, buying and selling of human beings was being made a cognisable offence, she added. "The proposed bill will hit organised nexus of trafficking," Gandhi said.
Tharoor said the victims (of trafficking) were the "least priority" in the bill. Gandhi had opening the discussion said it attempted to create a legal, economic and social environment for victims. TMC lawmaker Pratima Mondal described some provisions of the proposed law as "vague" and the gradation of offences as illogical.
Experts said while the stringent punishment in the proposed law will act as a deterrent once it is passed, the bill as passed by the LS has certain deficiencies. "The Bill fails to make a distinction between victims of sexual exploitation and consenting sex workers and puts them on par. This would certainly raise the issue of a violation of the right to work as per Article 19(1)(g) of the Constitution of India," Sushila Ram Verma, chief legal consultant at The Indian Lawyer, said.
She described the creation of the National Anti-Trafficking Bureau as a "laudable feature" of the proposed law.