'Lord Ayyappa helped us', Tantri on SC decision to review its Sabarimala order
The Supreme Court Tuesday agreed to hear on January 22 a batch of review petitions against its verdict allowing entry of women of all age groups into the Sabarimala temple.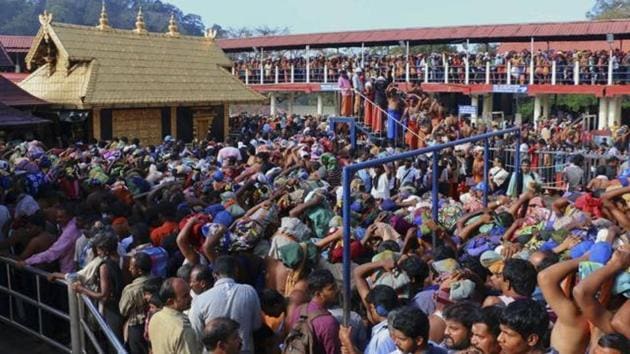 Updated on Nov 13, 2018 04:56 PM IST
The Supreme Court's decision on Tuesday to revisit its September 28 order allowing women of all ages into Kerala's Sabarimala shrine was welcomed with celebrations in the state.
The top court said that all 48 review petitions would be heard in open court from January 22.
Devotees took out victory processions at several places in the state and distributed sweets.
Welcoming the decision, Tantri Rajeevaru Kandarau said, "It is a great decision. Lord Ayyappa helped us. Really grateful to all devotees."
Temple affairs minister of the LDF government Kadakampally Surendran said, "government is committed to go by the Supreme Court decision."
The CPM-led state government has time and again said that the administration was committed to implementing the court's order but blamed the opposition Bharatiya Janata Party and Congress for politicising the issue, indicated it could hold discussions on the issue.
The top court, however made it clear, that there was no stay on its earlier verdict, which would mean that women devotees of all ages could enter the temple.
Activist Rahul Eshwar said peaceful protests would continue and the temple would be guarded. "We will guard the temple till Jan 22. Hope at least now the government will respect devotees sentiments", he said.
Welcoming the decision, Congress working president K Sudhakaran said, "We hope the court will understand devotees' sentiments and take a favourable decision on Jan 22."
The September 28 verdict by a five-judge constitution bench headed by then Chief Justice Dipak Misra, in its 4:1 verdict, had lifted the bar on entry of women aged between 10 and 50 into the temple, saying that it amounted to gender discrimination.
However, it had been opposed strongly in the state, with devotees claiming it flouted centuries-old traditions of the temple, whose presiding deity, Lord Ayyappa, is considered celibate.
Close Story