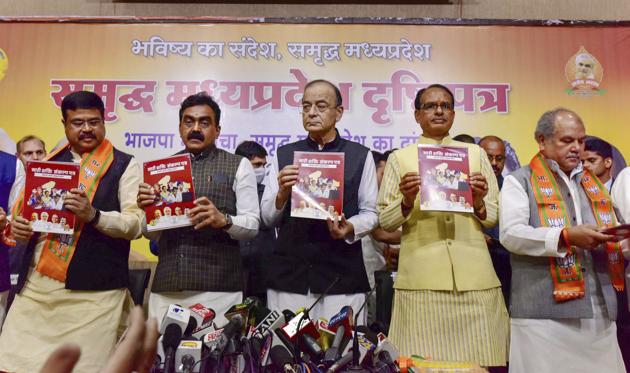 Madhya Pradesh elections 2018: BJP's MP manifesto promises five million jobs, two-wheelers to girl students
The BJP, ruling the state since 2003, is seeking to retain power against the backdrop of widespread farmers' protests last year for better support prices and a loan waiver.
Hindustan Times, Bhopal | By Ranjan Srivastava
UPDATED ON NOV 18, 2018 12:01 AM IST
The Bharatiya Janata Party (BJP) released its manifesto for the Madhya Pradesh polls, including a separate document for women on Saturday. The party, which has been in power since 2003, promised proportionate bonus to small farmers, creation of five million jobs in five years, two-wheelers to meritorious girl students, cow sanctuaries in every division of the state and 50 Gokul villages to be developed for conservation and promotion of indigenous cow breeds.
The manifesto, titled "Samridh Madhya Pradesh Drishti Patra", promised to invest Rs 50,000 crore in the agriculture sector and expand the area under irrigation to eight million hectares in the next five years. In its women's manifesto, titled, "Nari Shakti Sankalp Patra", the party promised to install sanitary napkin vending machines in schools and gift two-wheelers to every girl student scoring at least 75% in the school leaving examination.
The document was released by Union finance minister Arun Jaitely in presence of chief minister Shivraj Singh Chouhan, Union ministers Narendra Singh Tomar and Dharmendra Pradhan and manifesto committee chairman Vikram Verma.
Though the vision document didn't talk of a loan waiver -- a promise repeated by Congress leader Rahul Gandhi at almost every one of his rallies -- it promised a special bonus for small farmers who usually do not sell their output in mandis or agricultural markets that is proportionate to the size of their holding and the quantum of their produce.
Explaining the plan, chief minister Shivraj Singh Chouhan said that a farmer with two acres of land and producing 30 quintals wheat would get a bonus of Rs 7,950 at the rate of Rs 265 per quintal even if he doesn't sell the wheat at mandis. Chouhan said the manifesto was balanced: "On the one hand we have presented a road map for development, and on the other, an outline regarding welfare of all the sections of society under the vision document."
The manifesto also laid emphasis on welfare of every section of society and promised an expenditure of Rs 2 lakh crore on smart and mini smart cities and urban infrastructure in the state.
Some of the other promises made are the availability of all government facilities and information through e-governance, wildlife police stations in areas known for poaching, libraries and gyms in all new police stations, creation of a forensic science directorate, identification of illegal mining through satellite-based tracking systems, and expanding the base of the Deendayal Antyoday Kitchen scheme to all the districts to offer meals at Rs 5 per head.
On the religious front, the manifesto underlined several facilities on the Narmada Parikrama Marg, the development of several places in the Buddhist circuit, an increase honorarium to priests and mahants, and the creation of a religious places management authority to address the problems related to temples.
Congress leader Kamal Nath described the document as "a bundle of lies". "It covers all promises the BJP had made during 2003, 2008 and 2013 assembly elections. The BJP government never cared to implement its earlier promises. Hence, the present one is also to mislead people. There is nothing new in it. The BJP has even incorporated several points of the Congress' vachan patra in its manifesto."
Other key promises
* Free education to the children of poor families from primary level to PhD
* Introduction of 'female access to justice' scheme for security of women in the state
* Identification of hot spots related to crimes against women
* Employment to at least one person from every family
* Establishment of intellectual property cell in every government college
* Creation of an integrated job portal
* Annual budget of Rs 1,000 crore for creating self-employment opportunities for the young
* Global skills parks in Bhopal, Indore, Jabalpur and Gwalior
Close