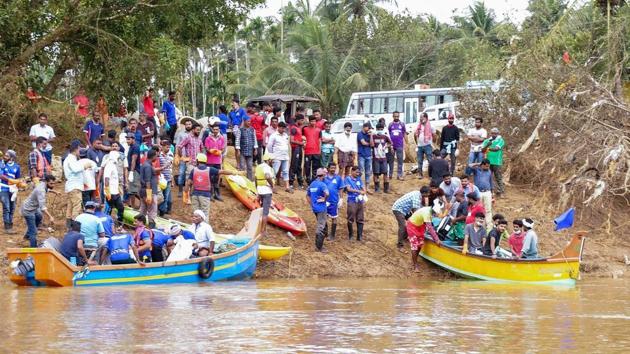 Wayanad farmers worry after mass death of earthworms in Kerala floods
The flood-battered north Kerala district of Wayanad is experiencing a strange phenomenon -- mass death of earthworms in many parts of the hilly district known for its rich biodiversity and spice cultivation
UPDATED ON SEP 08, 2018 08:26 AM IST
The flood-battered north Kerala district of Wayanad is experiencing a strange phenomenon -- mass death of earthworms in many parts of the hilly district known for its rich biodiversity and spice cultivation. Thousands of earthworms are emerging from the soil and perishing everyday, according to farmers and local residents.
Agricultural and environmental scientists who visited the area attribute the phenomenon to excess heat in the earth. After the top soil was washed away by gushing flood waters, the new soil that replaced it doesn't work like a sponge; it is unable to absorb enough water and moisture, the farmers say.
"For the last two days we have been experiencing this. Hundreds of worms are coming out and they break themselves up and die in the open. Initially I thought it was only confined to my cultivation area, but later many others also complained," said a small-time coffee planter, John Thomas, in Kalpetta.
Soon after the rains stopped and the sun came out, the wet earth started drying up rapidly, leaving many cracks, he said, adding that a detailed study would establish the cause.
"We can't blame top soil alone. Waynad is part of the Deccan plateau, where the soil is very sensitive and an unpredictable change is occurring in the soil structure of the district. Vanishing meadows, big concrete constructions and mindless quarrying have done damage to the fragile ecology of Wayanad," said P Rajendran, associate director of Regional Agricultural Research Station in Ambalavayal.
If the situation continues, it will affect microbes in the soil which will also impact crops like paddy and pepper that have feeble roots, he said.
Known for its rich aroma and flavour, the black pepper of Wayand is considered one of the best in the world.
"It is a lesson for all of us. We exploited nature mindlessly. Development should not be at the cost of the fragile ecology. At least now we should mend our ways; otherwise, we will be doing a big disservice to for the coming generations," said Rajendran.
Climate aberrations that are rampant these days can change biological cycles easily, said P V Karunakaran, principal scientist at the Salim Ali Centre for Ornithology and Natural History.
"Earthworms are very sensitive. We can't blame heat alone. There are chances that water saturation could have triggered this. We need a better study to unearth this phenomenon," said Karunakaran.
On Friday, the Kerala government decided to conduct an assessment of biodiversity loss in the massive floods that ravaged the state last month, claiming over 400 lives.
Topics
Close