Mathura village to fine girls using cell phones
May 03, 2017 07:48 PM IST
A panchayat in a village in UP's Mathura district has decided to slap a fine of Rs 2100 on girls who use mobile phones outside their homes because their use is 'evil'.
The use of mobile phones is an 'evil' and any girl seen using them outside her home would be fined Rs 2100, the panchayat of Madora village in UP's Mathura district has ruled.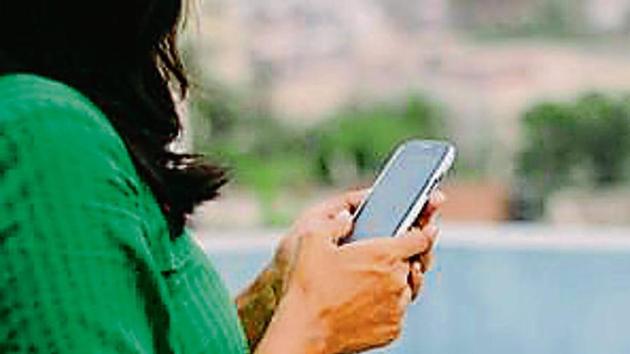 "The girls in our village are not much educated. We fear they might be led to a 'wrong path' and so to prevent it, restrictions are being imposed on girls to not use mobile phones in public or while walking through the village lanes," said Gaffar Khan, 45, who heads the panchayat.
"The girls found using mobile phones in public would be asked to deposit a penalty of R 2,100," Khan told HT.
The diktat penalizing girls for using mobile phones outside their homes was part of a slew of measures to fight different offences. The panchyat did not say why men should not be fined for using phones in public places.
"The panchayat held recently also imposed penalty on several other acts such as cow slaughter, gambling, cheating and alcohol consumption," Khan said.
"We are coming up with reformative steps to 'clean' the image of Madora village which is o1therwise infamous for cheating people. So the local police or administration should not have any objection to the decisions of the panchayat," he said.
However, superintendent of police (rural) Arun Kumar Singh said nobody would be allowed to restrict freedom of any individual.
"We will take action against any such complaint wherein a girl is restrained or is penalised for using a mobile phone and no panchayat would be allowed to dictate the rights of women," SP (rural) AK Singh told HT.
Sources claimed Madora and nearby villages of Dosera and Daulatpur have been branded as villages of tatlu–baaz (cheats). The practice involves duping people and sometimes even robbing them of cash and valuables.
"We are fed up with police raids and to discourage crime, it has been decided to stop the illegal practice of 'tatlu-baazi'. Those involved would have to pay R 21,000 from now onwards," said Khan.
"The panchayat also acted tough on cow slaughter and offenders will have to pay Rs 2,50,000 while a reward of Rs 51,000 has been declared for those giving information about cow slaughter," said Khan who added that a similar penalty on offenders and reward for informers had been fixed for gambling and drinking.
.