Mayawati's resignation from RS unlikely to be accepted as letter breaks parliamentary procedure
Jul 19, 2017 06:04 PM IST
The Bahujan Samaj Party (BSP) supremo Mayawati on Tuesday resigned from the Rajya Sabha in protest against not being allowed to raise the issue of atrocities against Dalits in the House.
Bahujan Samaj Party chief Mayawati resigned from Parliament on Tuesday, hours after storming out of the Rajya Sabha over not being allowed time to complete her speech on alleged Dalit atrocities in Uttar Pradesh.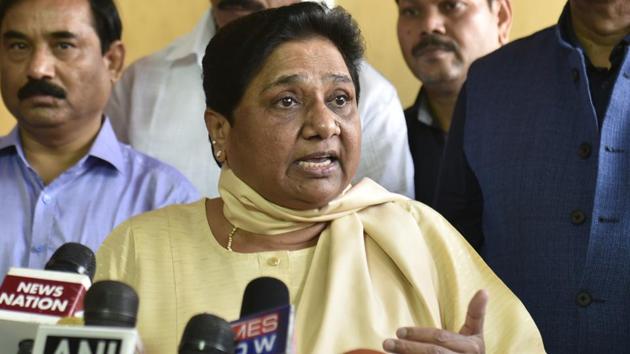 The resignation of Mayawati, a Dalit leader and a former chief minister of Uttar Pradesh, may not be accepted since it does not follow a prescribed format, but her move could give her a political point by projecting herself as a champion of the Dalit cause.
"Jab satta paksh mujhe apni baat rakhne ka bhi samay nahi de raha hai toh mera isteefa dena hi theek hai (If the ruling party is not going to allow me to speak, then it's better to resign)," ANI quoted Mayawati as saying shortly after she submitted her letter of resignation to the Rajya Sabha secretary general Shamsher Shariff's office at around 5pm.
Read | What BSP chief Mayawati's threat to quit Rajya Sabha means
The Rajya Sabha session began at 11am, and shortly afterwards Mayawati began speaking on atrocities against Dalits after being given 3 minutes to raise the issue. As she went past the scheduled time, Rajya Sabha deputy chairman PJ Kurien stopped her and an angry Mayawati stormed out of the House threatening to resign.
In her 3-page resignation letter, she detailed the morning's incident as the reason for her decision, which technically is a breach of protocol. A parliamentarian cannot cite a motive or reason for quitting, parliamentary procedure dictates.
If people in power, the Bharatiya Janata Party or the National Democratic Alliance (NDA) does not allow me to speak in the interest of marginalised communities, then I can no longer continue in this Parliament, she said in the letter written in Hindi.
Minister of state for parliamentary affairs Mukthar Abbas Naqvi said Mayawati had insulted the chair by threatening to resign. "She must apologise."
He said the government was prepared to raise all issues.
Opposition leader Ghulam Nabi Azad supported Mayawati and took objection to Naqvi's remarks.
"When Mayawati tried to talk, she was told we have got the mandate. We did not know the BJP has got the mandate to massacre minorities and Dalits," Azad, a Congress leader, said amid interruptions by the treasury benches.
If her resignation is accepted, the BSP as well as the Opposition will lose an MP while the BJP in UP will bag the seat. Rajya Sabha members are elected by MLAs of the state and in UP, the Yogi Adityanath-led BJP has a brute majority.
The BSP chief's term is going to end in April 2018. Given that her party has just 19 MLAs in the 403 member-strong assembly, the Dalit leader is unlikely to get any seat in the biennial polls in April. Her party has no member in the Lok Sabha, and observers say her focus on Dalit atrocities is part of a strategy for her to claw back political mileage.