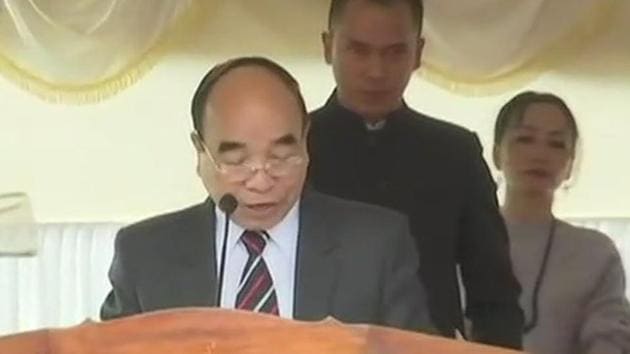 Mizo National Front leader Zoramthanga sworn in as Mizoram chief minister
Zoramthanga was administered the oath of office and secrecy by Governor K Rajasekharan at a ceremony in Aizawl.
UPDATED ON DEC 15, 2018 02:19 PM IST
Four days after his party's emphatic win in the assembly elections, Mizo National Front (MNF) president Zoramthanga took oath as chief minister of Mizoram for the third time.
The 74-year-old was administered oath of office by Governor Kummanam Rajasekharan at a swearing ceremony held at the circular lawn of the Raj Bhawan in Aizawl.
Zoramthanga who has headed MNF since 1990 had earlier been chief minister for two terms--first in 1998 and then again in 2008. MNF had won 26 of the total 40 seats in the assembly this time---drubbing ruling Congress.
Eleven other newly elected MLAs also took oath as ministers in the new cabinet. They included Tuichang MLA Tawnluia who was made the deputy chief minister.
R Lalzirliana, former home minister in the Congress government who had joined MNF prior to the polls, was among the five newly appointed cabinet ministers.
Among the six ministers of state were prominent businessman and owner of Aizawl Football Club Robert R. Royte and TJ Lalnuntluanga who defeated Congress president and chief minister Lal Thanhawla in Champhai South.
Read: Zoramthanga: Second coming for the former rebel turned politician
For the first time since Mizoram gained statehood in 1987, the swearing in ceremony of the new chief minister and council of ministers witnessed Bible reading and singing of a Christian chorus.
The ceremony began with the national anthem followed by a reading of the Bible and prayer by Rev. Lahmingthanga, chairman of Mizoram Kohhran Hruaitute Committee (MKHC), a conglomeration of leaders of 16 major churches in the state.
After the swearing in ceremony, The Leprosy Mission Choir Mizoram performed George Frideric Handel's 1741 composition "Hallelujah Chorus".
Close