Homes for all by 2022, half the journey over, says PM Narendra Modi
PM Modi's remarks came after he distributed keys to a few of the beneficiaries of the ambitious Pradhan Mantra Awas Yojana (PMAY) under which these homes were disbursed to around 250,000 families in Maharashtra.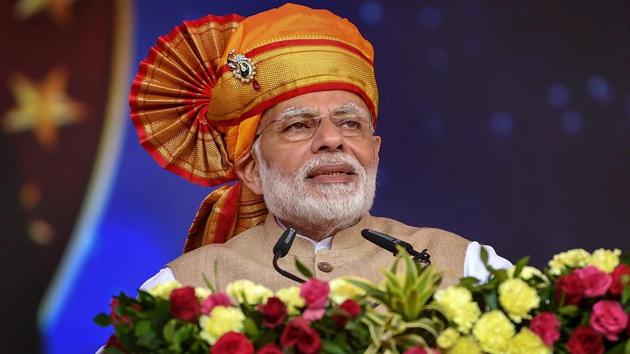 Updated on Oct 19, 2018 07:46 PM IST
Hindustan Times, Shirdi (Ahmednagar) |
HT Correspondent
Prime Minister Narendra Modi on Friday attacked the Congress party and the previous United Progressive Alliance government for their insincere schemes for the poor as he compared the projects initiated by his dispensation.
"The schemes launched during the Congress-led government were aimed to benefit one specific family and to safeguard the vote bank. The schemes lacked sincere motive," Modi said.
He was addressing a rally in the pilgrimage town of Shirdi in Maharashtra's Ahmednagar district associated with spiritual leader Sai Baba.
"My government constructed 1.25 crore houses in four years against 25 lakh houses constructed by the Congress-led UPA government during 2010-14. Looking at the pace of the government, the Congress would have taken 20 years to build these many houses," Modi said during his 30-minute speech.
"They cannot match the quality and the speed with which the schemes are being implemented currently," he said.
The function was organised to hand over the possession of the 250,000 houses built under the Pradhan Mantri Awas Yojana (PMAY).
"A permanent house makes life easy and provides enthusiasm to fight against poverty. Keeping this in mind, the government has set the goal of providing a permanent house to every family by 2022. I am happy that we have completed half the journey," the Prime Minister said.
He visited the Sai Baba temple before addressing the rally and interacted with the beneficiaries of housing schemes in various districts through video conferencing. He also launched various welfare schemes by the Sai Baba Temple Trust announced on the occasion of the centenary year of the Sai Baba's passing away.
Modi also announced his support to the Maharashtra government in its efforts in fighting the drought in the 201 tehsils in the backdrop of the deficient rainfall. He said that the financial aid will be extended to the farmers in the western state with the help of various centrally-sponsored schemes.
Maharashtra chief minister Devendra Fadnavis, in his speech earlier in the day, had urged Modi to help the state fight the drought-like situation in more than half of its tehsils.
Close Story