Over Rs 70,000 cr bank frauds under Modi govt, says Congress
Indo Asian News Service, New Delhi |
Indo Asian News Service
Jun 25, 2018 09:49 PM IST
Party spokesperson Randeep Singh Surjewala said that another bank fraud worth Rs 6978.72 crore involving the Faridabad based SRS Group has come to light. He alleged that SRS Group reportedly used hundreds of shell companies to defraud 17 banks.
Congress on Monday launched a scathing attack on the Narendra Modi government for leading India into "financial anarchy" with its "utter economic mismanagement" that has led to bank frauds over Rs 70,000 crore, and now forcing LIC to buy the sinking IDBI Bank to "hide its failures".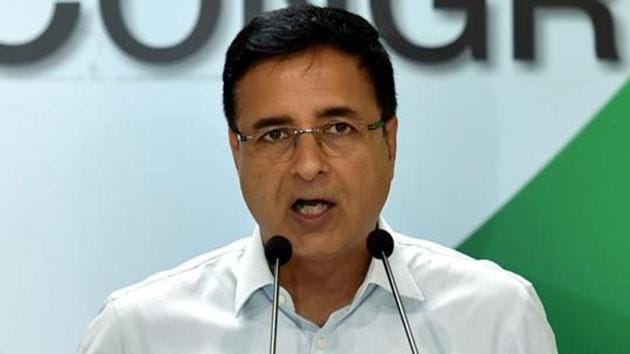 "Post the numerous bank loot scams that have plunged the banking sector in deep crises, one more mega scam worth Rs 6,978 crore has been uncovered taking the total value of 13 bank loot scams to Rs 70,014 crore," said Congress spokesperson Randeep Singh Surjewala.
He alleged that the Faridabad-based SRS Group, a diversified company, engaged in criminal conspiracy, cheating and frauds of Rs 6,978.72 crore reportedly using hundreds of shell companies defrauding 17 banks. It also laundered money and duped thousands of home buyers.
Citing Indian banks' Q4 losses for 2017-18 that touched an "astronomical" Rs 90,000 crore, Surjewala said Modi government's financial anarchy continues unabated as the NPAs which were Rs 2,63,000 crore in fiscal 2013-14 is now hovering around Rs 10,30,000 crore.
IDBI Bank is the worst performing public sector bank whose Q4 losses have swollen to Rs 5,663 crore and gross NPA has risen to a whopping Rs 55,588.26 crore, he said and added the bank has a bad loan ratio of close to 28 per cent.
"Utter economic mismanagement of Modi government and its Finance Ministry is writ large. To cover up its mess, it is now jeopardizing the hard-earned money of 38 crore LIC policy holders by forcing it to purchase the rapidly sinking IDBI Bank.
"It's a classic case of selling family silver of 38 crore LIC policy holders to hide the economic mayhem of failed 'Modinomics-Jaitleynomics'," he said.
Surjewala said the Prime Minister's Office, Finance Ministry, the Reserve Bank of India, the Central Vigilance Commission, the Central Bureau of Investigation, the Securities and Exchange Board of India, the Serious Fraud Investigation office, the Enforcement Directorate, the Corporate Affairs Ministry/the Registrar of Companies and the BJP government in Haryana are completely silent even after a series of complaints filed against the SRS Group as early as August 2017.
Thousands of people have been duped in the name of public deposits received by SRS Ltd, one of the SRS Group companies, he said, claiming that repayments of about Rs 90 crore have been denied despite various order from National Company Law Tribunal.
Surjewala said thousands of people have also been duped in the name of booking flats, homes, plots, floors and other deposits, with as much as 80 per cent advance as payments, but no delivery of the said land or flat allotments was done to the investors in these projects.
"In one of the glaring examples, the bank has served notices to 1,200 flat owners in SRS Royal Hills, Sector 87, Faridabad to vacate the flats to recover the loan," he said, adding that the residents had been staying for years without even a registry.